DDMALL HDD-20W 4K HDMI Video Decoder for Decoding Network Stream, 2160p60 Wifi Decoder for Decoding IP Streaming Encoder or IP Camera
$599.90
available:
In Stock
Quick Overview:
【Easy Setup without Cable-clutters】Ultra-mini size(75x32x15mm) and ultra-lightweight(25g). USB-powered. The video decoder accepts power from USB port of display without power adapter; Type-A male design of HDMI interface making it easy to plug to the HDMI port of display without HDMI cable; these unrivaled features ensure easy installation of the streaming media decoding system with cable-free
【Portable 4K SRT Decoder】Decode up to 4K@60Hz with SRT protocol; the wireless HDMI encoder offers end-to-end IP video solution by pairing with DDMALL SRT encoder, providing secure, reliable, and high-quality low latency video transmission; compatible with third-party SRT encoders.
【True 4K Video Decoder】Decode up to 4K@60Hz at high bitrate with HEVC/AVC, and HDMI outputs up to 4K@60Hz. Auto-match a best HDMI output resolution for display regarding the specific parameters of display terminals; support video resolution up-scaling and down-scaling.
【Camera Decoder】The IP decoder decodes IP streams from various brand IP cameras or NVRs to HDMI signal; support protocols like ONVIF, RTSP, UDP, TCP. 
【2.4G+5G Dual-Wifi】Built-in 2.4G+5G dual-band wifi antenna and ulta-compact form factor. Convenient to connect various Wifi hotspots quickly and conveniently to realize stable and reliable streaming video transmission and output.
DDMALL Technology
DDMALL Technology is the proprietary brand of Atel Technologies Co., Ltd. As a company comprised of R&D and manufacture, we have been dedicated to hardware video codec products for over 20years. Foot on video over IP industry, we have developed a series of hardware HDMI over Ethernet transmitters, extenders, live video encoders, decoders, A/V processors, matrix switchers, HDMI cables etc. To meet the ever-growing segmented market demands and keep our customers one-step ahead in the market, we will stay innovative and sharpen our technology to provide more versatile, reliable, stable but less cost and carbon footage solutions for video transmission, distribution and live streaming.

HDD-20W is DDMALL most compact and powerful wireless HDMI video deocder yet, features in ultra-mini and uldtra-lightweight form factor. It accepts power by USB connection to the USB port of displays. HEVC H.265 and AVC H.264 compression support; This HEVC decoder decodes network streams and video encoders for broadcasting in 2160p at up to 60fps in ultra low latency, making it perfect to decode IP cameras and NVRs from differents brands. Captivate your audiences with the video streaming in pristime 4K quality; streamline your ip streaming decoding with energy efficiency and cost saving. Support video resolution up-scaling and down-scaling. The video decoder can auto-match the best HDMI output resolution for the display terminal dy identifying the parameters of the display terminal. Degrade 4K video to 2K video for passing through in case you have the needs. SRT, Onvif, RTSP, UDP, TCP support; when it works as a SRT decoder, it secureS your 4K video transmission reliably in low latency; Integrate the hdmi decoder into your systems to decode IP camera, network stream, DDMALL or third-party video encoders and more, it will bring your unmatched decoding AV experience. 
Portable Wireless Video Streaming Decoder 
Ultra-mini and lightweight features make the IP video decoder easy to carry. It is the most compact 4K wireless decoder in the market. Plug it to your mobile signal sources without any cable clutters, and it will delivers true 4K high quality video as you wish. 
USB-Powered, Energy Efiicient
Leveraging the ultra-low power conumption, the Wifi HDMI video decoder takes power from most HDMI signal sources directly, or when the HDMI power voltage is too low to support normal working of the IP decoder, you can power it by USB connection to signal sources or power bank without additional power adapter is required. Agile your setup to the greatest extent.  
Reliable Quality, Professional Performance
The IP decoder is a HEVC H.265 AVC H.264 video decoder, supporting ONVIF, RTSP, UDP, TCP. With inputs up to 4K@60Hz and decoding outputs up to 4K@60Hz as well. Plug it to your signal source directly and configure the decoder via web UI easily, then you will enjoy your decoding video with ease. 
Wireless Video Decoding Solution 
Built-in 5G+2.4G dual-band Wifi antenna, the HDMI video decoder enables more stable signal juice for the reliable video decoding. Use your mobile phone, or mobile Wifi router to provide network connection for the streaming decoder. Ideal for outdoor sports, wild shooting, mega church broadcasting, campus activities and more.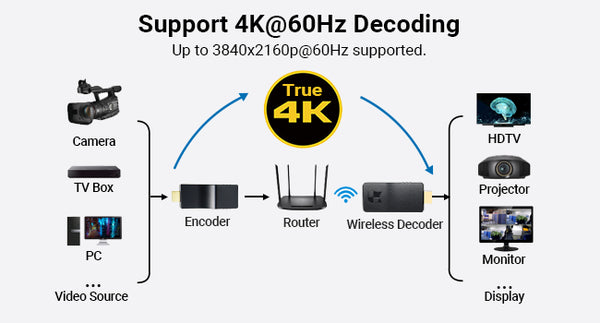 Easy to Setup 
The Wifi video decoder adopts DDMALL technology, easy to carry and install. It is friendly to the network streams, IP streams, third-party encoders so you can simply integrate it into your decoding systems. The video decoder will work perfectly with your systems.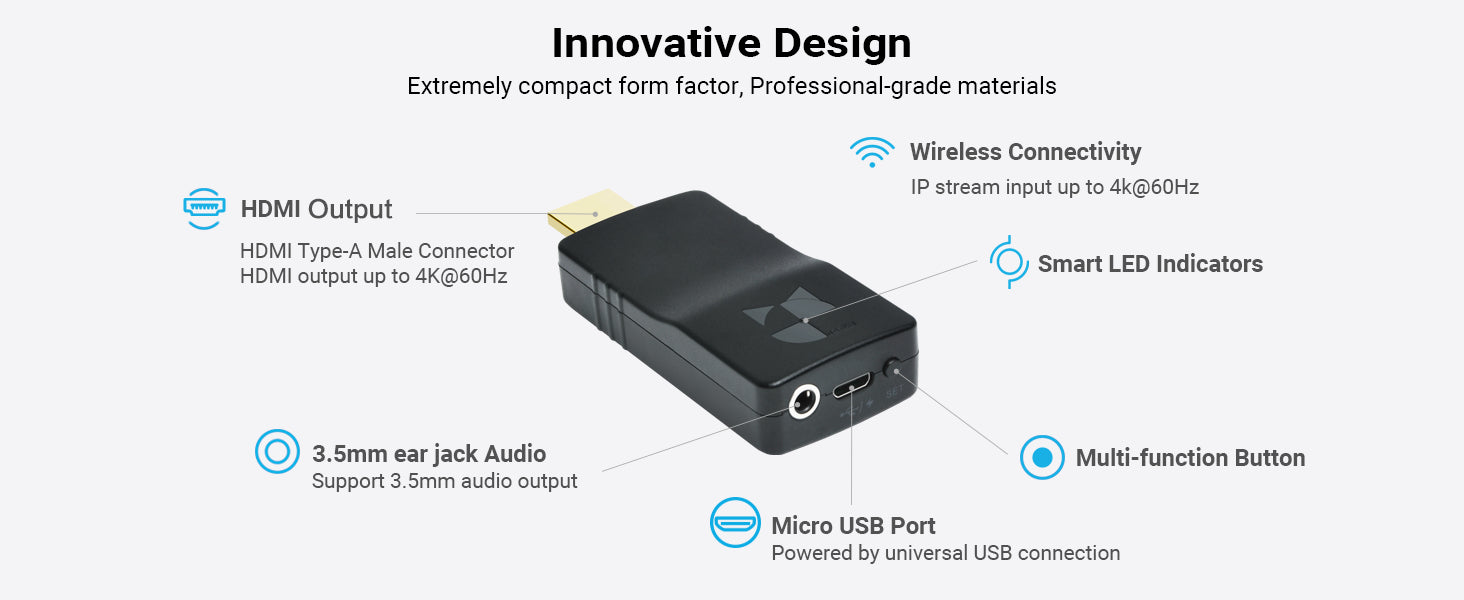 Specifications 
 Power Supply 

5V/1 A (USB cable powered )

Power Consumption

2.6W

Work Temperature

10~65℃ (14~149℉)

Storage Temperature

-20~85℃ (-4~185℉)

Work Humidity

10%- 90%RH (Non-condensing)

Product Weight

25g/0.055lbs

Product Dimension

75x32x15mm/2.95x1.26x0.59in

MTBF(mean time between failures)

30,000h

Video Input Standard

HDMI 2.0

Video Codec

H.265/HEVC and H.264/AVC

Supported Protocols 

RTSP, ONVIF, UDP, TCP,     

Supported Output Resolution

3840*2160p@60/50/30/25/24Hz,1920*1080p@60/50/30/25/24Hz,

1920*1080i@60/50Hz, 1280*720p@60/50Hz,

Supported Stream Input Resolution

3840*2160@60/30Hz,1920*1080p@60/30Hz, 1280*720p@60/30Hz,

 


Audio Input Standard

HDMI embedded audio input, 3.5mm analog

Audio Encoding Format

G.711u, AAC

Compression Profile

BaseLine, Main, High

Control Method

Web UI