DDMALL HEM-2K H.265 H.264 2K Encoding Module & Starter Kit, OEM-ready Module
$309.90
available:
In Stock
Quick Overview:
【OEM-Ready HDMI Coding Module】HEM-2K is an OEM-ready audio video coding module for easier integration into your production systems. The HDMI streaming module is ready to ship so you can have them in the shortest time. 
【2K HD Encoding Module】HDMI input resolution is up to 1080P@60Hz and encoding output up to 1080P@30Hz with H.265/HEVC or H.264/AVC codec. Multiple streaming protocols are in place to satisfy various needs like RTP, RTSP, RTMP, RTMPS, UDP, TCP, HLS, SRT and more. 
【Energy-Efficiency & Cost-Saving】HEM-2K encoding module is quite mini and ultra-lightweight with ultra-low power consumption. Easy to install in your production systems to enjoy all the functionalities of a HDMI encoder, which greatly reduce the total cost of ownership while saving time and energy. 
【Robust Compatibility】HEM-2K is a 2K high-defination coding module, which provides kinds of docking interfaces for DDMALL products docking or third-party software or hardware device docking. It will streamline your system setup to a large extent. 
【Customization & Firmware Update】HEM-2K is an OEM-ready coding module, which supports customization according to your requirements. Moreover, it allows firmware update with the evolving of requirements. It is universally adaptable for all systems to realize long-distance audio video transmission and live streaming. 
DDMALL Technology
DDMALL Technology is the proprietary brand of Atel Technologies Co., Ltd. As a company comprised of R&D and manufacture, we have been dedicated to hardware video codec products for over 20years. Foot on video over IP industry, we have developed a series of hardware HDMI over Ethernet transmitters, extenders, live video encoders, decoders, A/V processors, matrix switchers, HDMI cables etc. To meet the ever-growing segmented market demands and keep our customers one-step ahead in the market, we will stay innovative and sharpen our technology to provide more versatile, reliable, stable but less cost and carbon footage solutions for video transmission, distribution and live streaming.
HEM-2K is an OEM-ready audio and video encoding module that supports various streaming media protocols like RTP, RTSP, RTMP, RTMPS, UDP, TCP, HLS, SRT. It simplifies the overall system design, reduces product development time and total cost of ownership. HEM-2K is an integration of standard hardware and software audio/video systems with H.265/H.264 high-efficiency codec, providing all kinds of docking interfaces. It allows third-party software or hardware types for docking. Moreover, to meet the segmented market demands, we provides hardware and software customization as well as firmware update. Buying this encoding model, customers can be assured and focus more on the final application of their systems and realize long-distance video audio transmission or live streaming easily.
Advantages of H.265 H.264 2k Encoding Module HD
1, Integration of standard software and hardware audio/video system.
2, Ultra-compact form factor—save space and power with ultra-low power consumption.
3, Universal design—reduce product development time and total cost.
4, Support H.264/H.265 high-efficiency codec.
5, Support multiple streaming protocols like RTP/RTSP/RTMP/RTMPS/UDP/TCP/HLS/SRT and provide free update service for special requirements of different industries on stream media.
6, DDNS—Leveraging this function, users can realize intranet traversal, remotely control the encder through domain, and set up video transmision on public Internet.
7, Provide all kinds of docking interfaces—support third-party software or hardware types for docking.
8, Support hardware customization—different hardware shapes can be designed.
9, Support software customization. 
H.265 H.264 Sreaming Coding Starter Kit
To help customer quickly debug and use the funcstionalities of the encoding module, and save total cost of ownership, DDMALL also developed corresponding debugging I/O board, which provides I/O interfaces for the module's av connection, network connection etc. Users can run all of functionalities of encoding module by embedding the module into the I/O interface on the debugging board. One I/O board can load up to 4 encoding modules simultaneously. Moreover, the encoding module + I/O board can be put into use directly as a multi-channel audio and video encoding device.
Hardware Parameters 

Description
Parameters

Sku

HEM-2K

Expansion Interface

BH501P-030-R00200*2

Interfaces

HDMI In




Analog Audio In




KEY_IN




Network




USB 2.0




UART

Memory

ROM: DDR3 256MB




Flash: 32MB

Size

60x25mm

Power supply

DC5V/1A

Power consumption

2.5W
Software
Description
Parameters

Operating System

Linux

Video input format

720P50/60,1080P23/24/25/30/59/60

Video codec

H.264/H.265




1920x1080@30 +1280x720@30




VBR/CBR/FIX PQ/AVBR




128Kbps~16Mbps

Audio codec

AAC/32Kbps~256Kbps




G711u

Stream

RTP, RTSP, RTMP,RTMPS,UDP/TCP,HLS, SRT

Transmission mode

Unicast/Multicast

Control interface

UART/WEB UI
Hardware Frame Chart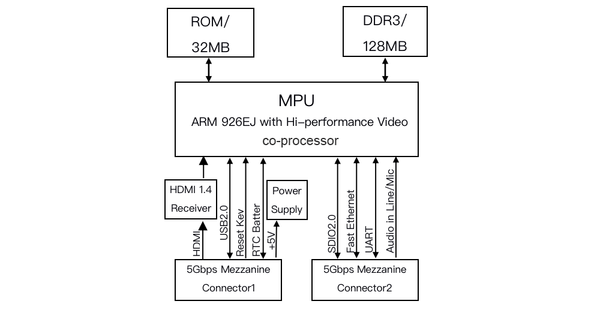 Software Frame Chart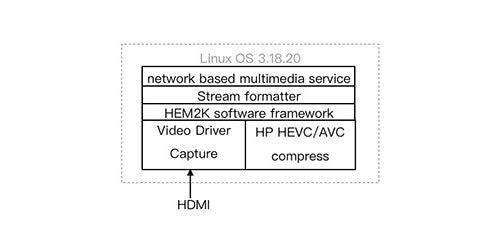 Part of Connection Circuit Diagram
1、Connector signal definition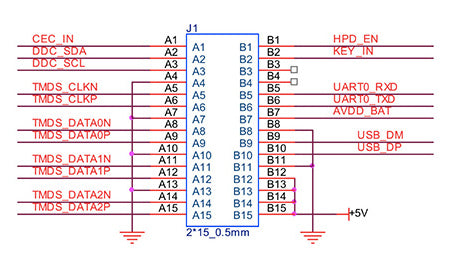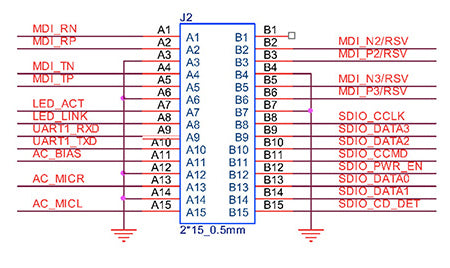 2、Network transformer connection