SKU:HE-35
Regular price
$209.00 USD
Regular price
$209.00 USD
Sale price
$209.00 USD
Unit price
per
Sale
Sold out
Share
18 in stock
View full details
Overview
4K True UDH HDMI Transmitter: The HE-35 HDMI video extender extends 4K HDMI A/V signal from point to point in zero delay with up to 230ft/70m range in 4K@60Hz over single cat6/cat7 cable.
Multiple Chroma Subsampling Supported: The HE-35 HDMI transmitter receiver kit supports 4:4:4, 4:2:2 and 4:2:0. More saturated color and video quality of your video transmission will take place. The transmitter also supports full range of audio formats like Dolby True HD, DTS-HD Master audio, LPCM, DTS, Dolby-AC3/DSD. 
Zero Delay 4K Loopout: The HE-35 HDMI extender kit over cat6 or cat7 transmits true 4K video without delay and supports 4K loopout. Both the TX transmitter and RX receiver are USB-powered. Plug and play. 
USB-Powered & POC Supported: The HE-35 HDMI extender kit are all USB-powered and supports POC. You only need to power the TX transmitter or the RX receiver. The HDMI transmitter and receiver kit supports IR remote control for easier management of your transmission.
Auto-EDID Supported: With built-in auto-EDID emulation technology, the HDMI video transmitter allows to copy EDID information for the EDID compliant displays to ensure accurate display performance.

The DDMALL HE-35 4K HDMI Extender allows you to extend up to 4K@60Hz HDMI audio/video signal at up to 230ft/70m over a single CAT5e/6/7 cable with zero delay, while maintaining original audio/video quality. At the same time, the HDMI extender allows 4K video loopout for better local monitoring. The HDMI transmitter and receiver kit has extremely compact form factor for easy installation. Moreoever, the HDMI video extender kit are USB-powered so you can power them by universal USB without additional AC power adapter. Ideal for projection systems, digital signage, meeting rooms, pro A/V systems, and more.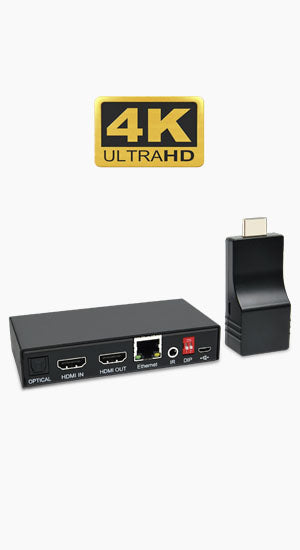 DDMALL 4K HDMI Extender with Local HDMI Loop Out
Compact Size, Professional Features
• Transmission range is up to 230ft/70m in 4K@60Hz with zero delay.
• Real-time loop out: connect the HDMI exteder kit to a local HDMI display for monitoring easily.
• Support chroma subsampling 4:4:4, 4:2:2 and 4:2:0.
• EDID management - auto EDID pass through, no configuration is needed.
• Support analog audio and optical audio output simultaneously.
• USB-Powered - no proprietary AC power adapter is required. 
• Compact size & easy to install. Ideal for projection system, digital signage, and more.
• Professional-grade quality - stable and reliable 24/7 working.
Specifications
• Extension Range: Max. 230ft (70m) at 4K@60Hz
• Supported Resolutions: 3840×2160p@60/30Hz, 1920×1080p@60/50/30Hz, 1920×1080i@60/50/30Hz, 1280×720p@60/50/30Hz
• Supported Audio: full range of HD audio, includes Dobly TruHD, DTS-HD Master Audio, LPCM, DTS, Dobly-AC3, DSD, etc. Supports 5.1CH SPDIF audio and 3.5mm analog audio output simultaneously (on transmitter unit).
• Compliant with HDMI 2.0, HDCP 2.2, HDCP 1.4
• Wide Compatibility: Compatible with various devices like set-top boxes, blu-ray players, Xbox, NVR systems, game consoles, laptops, TVs, projectors, HDMI monitors and more.
• LED Indicator: Green Light - Power; Yellow Light - Signal
• Power Supply: USB-powered. No proprietary AC power adapter needed.
• Power Consumption: Transmitter (2.5W), Receiver (2W)
What's in the Box
• 1× HDMI Transmitter
• 1× HDMI Receiver
• 1× HDMI Male to Female Cable
• 2× Micro USB Power Cable
• 1× User Manual