DDMALL HDB101-70 HDBaseT Extender, HDMI Transmitter and Receiver 230ft/70m Range
$529.90
available:
In Stock
Quick Overview:
Long Range HDBaseT Extender - The HDBaseT HDMI extender extends HDMI audio/video signals over a CAT5e/6 cable with range up to 230ft/70m in 1080p or 130ft/40m in 2160p. With uncompressed HDBaseT technology, The HDBaseT transmitter receiver kit delivers Ultra High Definition video without any signal loss or delay.
Zero Loss & Zero Compression - It The HDBaseT HDMI video extender delivers crystal clear video and audio quality with zero compression and zero bit reduction in zero delay with range up to 230ft/70m.
Advanced Features - HDMI 1.4, UHD 4K, 3D, 10.2Gbps bandwidth, Bi-directional IR, RS-232 extension. the HDBaseT HDMI video transmitter and receiver supports DTS-HD, Dolby TrueHD, 7.1ch digital audio and all other HDMI standard formats. Compatible with the latest HDMI source and display devices like Apple TV, Roku, Amazon Fire TV, cable box, Xbox One S, PS4 and more.
Bi-Directional IR Control - The HDBaseT extender extends IR signals both either from Transmitter (source) to Receiver (sink) or Receiver to Transmitter with full IR signal frequency from 20KHz to 60KHz supported.
DDMALL Technology
 DDMALL Technology is the proprietary brand of Atel Technologies Co., Ltd. As a company comprised of R&D and manufacture, we have been dedicated to hardware video codec products for over 20years. Foot on video over IP industry, we have developed a series of hardware HDMI over Ethernet transmitters, extenders, live video encoders, decoders, A/V processors, matrix switchers, HDMI cables etc. To meet the ever-growing segmented market demands and keep our customers one-step ahead in the market, we will stay innovative and sharpen our technology to provide more versatile, reliable, stable but less cost and carbon footage solutions for video transmission, distribution and live streaming.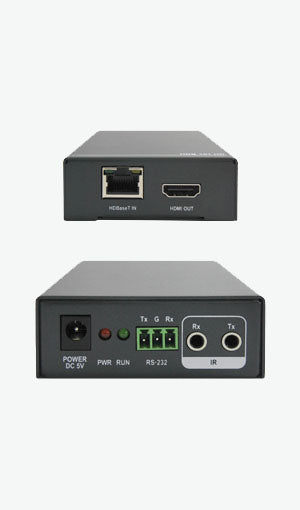 DDMALL HDBaseT HDMI Extender
Simple, Powerful and Reliable
DDMALL HDBaseT HDMI Extender over CAT5e/6/7 with IR HDBaseT technology to extend uncompressed HDMI audio/video signals over one cost effective CAT5e/6 cable up to 230ft/70m, while maintaining signal strength without any loss. The HDBaseT HDMI transmitter receiver kit supports extension of 4K@30Hz video at rage up to 130ft/40m or 1080p video at up to 230ft/70m. Bi-directional IR remote control extension allows IR signals to travel both ways easily.
Key Features & Specification:
The HDBaseT HDMI extender allows 4K video to be extended at up to 130ft/40m or 1080p video at up to 230ft/70m.

HDMI 1.4 and HDCP 2.2 compatible.

Max transmission rate: 10. 2Gbps.

Bi-Directional IR to control the source from the display side.

Audio format: digital stereo 7.1ch, LPCM, Dolby DTS-HD, Dolby True HD.

HDbaseT Protocol.

EDID Management.

Max. Resolutions: 4096x2160@24Hz, 3840x2160@30Hz, 1920x1200@60Hz.

Housing: metal

Power Supply: DC 5V, 2A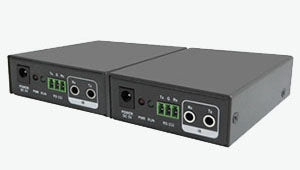 Professional Grade Quality
40% quality control of every component. All our products are manufactured from high-grade materials to ensure the best performance.
What's in the Box
• 1×Transmitter
• 1×Receiver
• 2×DC Power Adapter
• 1×User Manual