DDMALL HEV-10W Wireless H.265 H.264 HDMI 2K Live Encoder for Video Streaming
$389.90
available:
In Stock
Quick Overview:
[All-in-One IP Video Encoder] DDMALL HEV-10W features a formfactor in small size and light weight with H.265 and H.264 codec. It is a USB-powered portable HDMI video encoder which has a ultra-low power consumption of 3W. 
[4K Hardware Streaming Encoder] HEV-10W is a hardware video encoder, supporting real 4K video input and zero-latency local loop out at 4K resolution. It is perfect to go RTMP streaming at 2K resolution over Ethernet.
[Dual-Band Wi-Fi Video Encoder] HEV-10W support 5G and 2.4G dual band with Wi-Fi antenna for Internet connection. Where there is Wifi deployment, where the video transmission and live broadcast can perform.
[Live Video Encoder for Many] HEV-10W is a portable hardware live encoder, supporting one-click to go live. Easy installation, simple setup, and convenient streaming to YouTube, Twitch, Facebook, Dacast and more. Ideal video transmission and live streaming solution for remote fire surveillance, UAV/drone application, onsite monitoring, outdoor activities, engineering projects etc. 
[Warranty & Lifetime Support] HEV-10W includes one year manufacturer warranty and the other one year extended warranty for member registration. DDMALL also provide free firmware online upgrading for new functionalities and lifetime technical support. 
DDMALL Technology
DDMALL Technology is the proprietary brand of Atel Technologies Co., Ltd. As a company comprised of R&D and manufacture, we have been dedicated to hardware video codec products for over 20years. Foot on video over IP industry, we have developed a series of hardware HDMI over Ethernet transmitters, extenders, live video encoders, decoders, A/V processors, matrix switchers, HDMI cables etc. To meet the ever growing segmented market demands and keep our customers one-step ahead in the market, we will stay innovative and sharpen our technology to provide more versatile, reliable, stable but less cost and carbon footage solutions for video transmission, distribution and live streaming.
The DDMALL Advantages
• Leading Technologies in AV solution Field
• 20+ Years' Experience
• Strong R&D Capabilities
• ISO Certification
• OEM & ODM Specialist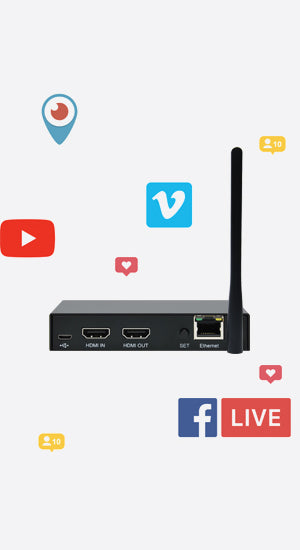 DDMALL Wireless H.265 HDMI Video Encoder with Local HDMI Loop Out
Compact, Powerful and Reliable
The HEV-10W is a compact, yet professional wireless H.265 HDMI Video Encoder that enables high-quality, low-latency content streaming and display. It supports a maximum of 4K@60Hz input and can stream to popular services such as YouTube Live, Facebook Live, Twitch or to a custom-specified RTMP server at up to 1080p via Ethernet, Wi-Fi and mobile hotspot connection. The HEV-10W also provides a zero-latency, up to 4K@60Hz loop-out that connects to a local display for live monitoring.
Key Features
• High efficiently embedded codec—support H.265/HEVC & H.264/AVC.
• 4K video input—support HDMI video input at 4K@60Hz.
• 2K video encoding output—support video encoding output at 2K@30Hz.
• 4K zero-latency local loop out—support real-time video local loop out at 4K@60Hz.
• Dual-band Wi-Fi module—5G+2.4G dual band Wi-Fi module with antenna for Internet connection to provide more stable and smooth video transmission and live streaming.
• Energy-saving USB-powered—it is powered by USB with a ultra-low power consumption of 3W, reducing carbon footage on Earth.
• User-friendly Web UI—adjust and modify all the setup and parameters via web controlled user interface in an easier manner.
• RTMP live streaming video encoder—it support RTMP, RTMPS, RTSP, RTP, UDP, Multicast, Unicast.
• One-click to go live—one button to start and stop your streaming.
• OSD settings—customize your own text/graphic OSD to your video for display.
• Lifetime technical support—2 year warranty ( 1 year manufacturer warranty + 1 year extended member warranty) and lifetime technical support for your better using experience.
Specifications & Parameters
| | |
| --- | --- |
| Power Supply | 5V/1 A (USB cable powered ) |
| Power Consumption | 3W |
| Work Temperature | -10~55℃ (14~149℉) |
| Storage Temperature | -20~85℃ (-4~185℉) |
| Work Humidity | 10%- 90%RH (Non-condensing) |
| Weight | 114g/0.25lbs |
| Dimension | 110mm(L)*60mm(W)*22mm(H)/ 4.33×2.36× 0.87in |
| MTBF(mean time between failures) | 30,000h |
| Video Input Standard & Video Loop Output | HDMI 2.0 |
| Video Codec | H.265/HEVC and H.264/AVC |
| Supported Protocols | RTP, RTSP, RTMP, RTMPS, UDP, Multicast and Unicast. |
| Supported Input Resolution & Local Output Resolution | 4096*2160p@60/30Hz; 3840*2160p@60/30Hz; 1920*1080p@60/50/30Hz; 1920*1080i@60/50/30Hz; 1280*720p@60/50/30Hz; |
| Supported Output Resolution | 1080p@30Hz; 720p@60Hz; 960*720@60Hz; 960*540@60Hz; 640*480@60Hz; 360*200@60Hz |
| Video Bitrate | 128Kbps~64Mbps |
| Audio Input Standard | HDMI |
| Audio Encoding Format | G.711u, AAC |
| Audio Bitrate | 32kbps~256Kbps |
| Wireless Standard | 802.11a/n/ac 5G,802.11b/g/n 2.4G |
| Control Method | Web UI |
| AP Mode Wi-Fi Info. | SSID:HEV-10W;password:12345678 |
| AP Mode Default IP | 192.168.1.252 |
| WEB UI login credentials | Default user/password: admin/admin |
| GOP | Tunable |
| Compression Profile | BaseLine, Main, High |
What's in the Box
• 1×HEV-10W Encoder, 1×USB Power Cable, 1×Wi-Fi Antenna, 1×User Manual
●【Compact & Professional】The DDMALL HEV-10W HDMI encoder is built for easy, live video and audio streaming from any HDMI sources to online services like YouTube, Facebook or other content delivery services and content management systems over wired Ethernet, Wi-Fi or mobile Hotspot. It features a compact size and has both the H.264/AVC and H.265/HEVC codes in the same unit. Supports live broadcast to YouTube, Facebook, Ustream, Vimeo, Livesream, Dacast, Streamspot, Periscope, Twitch, and more.
●【One-button Control】Once initial setup is complete, you can start and stop streaming by simply pressing the multi-function button. The HEV-10W will remember your stream URL/Key settings, no need to reconfigure the device constantly. It is controlled via web-based user interface, which you can access through its IP address and configure everything, such as resolutions, bitrates and more through a common browser on your mobile phone, PC and tablet, no external software installation required.
●【4K Input & 4K Loopout】Supports up to 4K@60Hz (4096×2160p@60Hz & 3840×2160p@60Hz) HDMI input and also supports up to 4K@60Hz (4096×2160p@60Hz & 3840×2160p@60Hz) HDMI loopout for external display. There is no delay and no signal loss between HDMI input and the local output, this allows you to monitor your live video in real time to engage with your audience.
●【USB-Powered】Powered by universal USB connection (e.g. a USB port on your laptop, power bank, etc.), no proprietary AC power adapters required. Ideally suited for portable live streaming. 【What's in the Package】1× DDMALL HDMI Wireless Video Encoder, 1×Micro USB Power Cable, 1×User Manual, 1×Wi-Fi antenna.
●【Buy with Confidence】DDMALL has over 20 years' experience in designing and manufacturing Pro A/V products. Our passion for unique design brought our vision, and products, to life. We believe in our products and we are extremely focused on customer satisfaction, that's why we are confident in offering 3-Year worry-Free manufacturer warranty and free lifetime technical support to our customers. If you have any questions, please do not hesitate to contact us. We're always standing by to help.
Specifications & Parameters
| | |
| --- | --- |
| Power Supply | 5V/1 A (USB cable powered ) |
| Power Consumption | 3W |
| Work Temperature | -10~55℃ (14~149℉) |
| Storage Temperature | -20~85℃ (-4~185℉) |
| Work Humidity | 10%- 90%RH (Non-condensing) |
| Weight | 114g/0.25lbs |
| Dimension | 110mm(L)*60mm(W)*22mm(H)/ 4.33×2.36× 0.87in |
| MTBF(mean time between failures) | 30,000h |
| Video Input Stanard & Video Loop Output | HDMI 2.0 |
| Video Codec | H.265/HEVC and H.264/AVC |
| Supported Protocols | RTP, RTSP, RTMP, RTMPS, UDP, Multicast and Unicast. |
| Supported Input Resolution & Local Output Resolution | 4096*2160p@60/30Hz; 3840*2160p@60/30Hz; 1920*1080p@60/50/30Hz; 1920*1080i@60/50/30Hz; 1280*720p@60/50/30Hz; |
| Supported Output Resolution | 1080p@30Hz; 720p@60Hz; 960*720@60Hz; 960*540@60Hz; 640*480@60Hz; 360*200@60Hz |
| Video Bitrate | 128Kbps~64Mbps |
| Audio Input Standard | HDMI |
| Audio Encoding Format | G.711u, AAC |
| Audio Bitrate | 32kbps~256Kbps |
| Wireless Standard | 802.11a/n/ac 5G,802.11b/g/n 2.4G |
| Control Method | Web UI |
| AP Mode Wi-FI Info. | SSID:HEV-10W;password:12345678 |
| AP Mode Default IP | 192.168.1.252 |
| WEB UI login credentials | Default user/password:admin/admin |
| GOP | Tunable |
| Compression Profile | BaseLine, Main, High |