DDMALL HDD-20W Wireless 4K HDMI Video Decoder
$599.90
available:
In Stock
Quick Overview:DDMALL HDD-20W is a USB powered HDMI wireless 4K decoder. it is a HEVC H.265 H.264 hardware decoder, allowing to decode 4K@60Hz streams and full HD 1080p@60Hz or 1080i@60Hz at a very low latency. This wireless decoder support both 5G and 2.4G signal band for video streaming. It is not only a RTSP decoder, but also a SRT, HLS decoder support UDP and Onvif as well. Connect the decoder to your display terminal and power it by USB cable without any additional cable wiring. It will decode your IP stream for display on your large screen, TV, monitor, projector etc. 
DDMALL Technology
DDMALL Technology is the proprietary brand of Atel Technologies Co., Ltd. As a company comprised of R&D and manufacture, we have been dedicated to hardware video codec products for over 20years. Foot on video over IP industry, we have developed a series of hardware HDMI over Ethernet transmitters, extenders, live video encoders, decoders, A/V processors, matrix switchers, HDMI cables etc. To meet the ever growing segmented market demands and keep our customers one-step ahead in the market, we will stay innovative and sharpen our technology to provide more versatile, reliable, stable but less cost and carbon footage solutions for video transmission, distribution and live streaming.
The DDMALL Advantages
• Leading Technologies in AV solution Field
• 20+ Years' Experience
• Strong R&D Capabilities
• ISO Certification
• OEM & ODM Specialist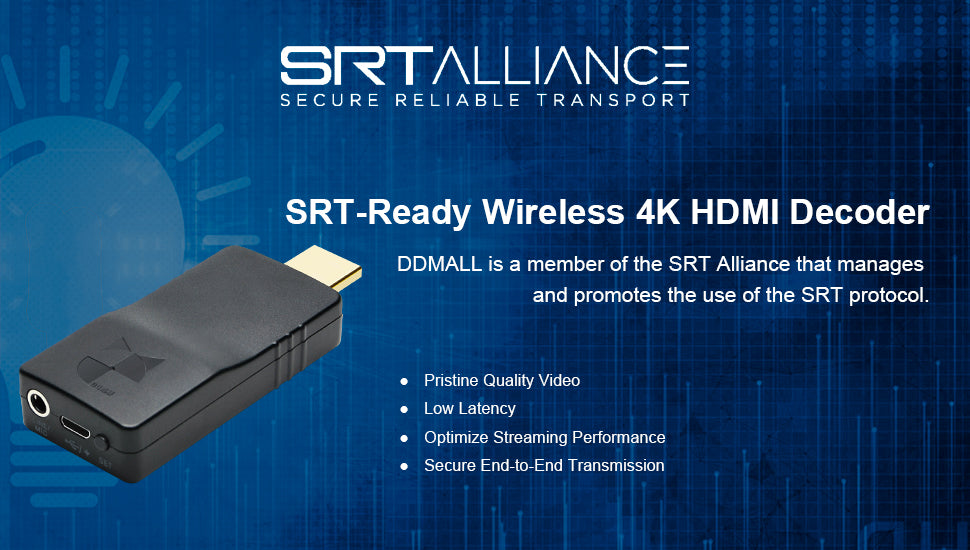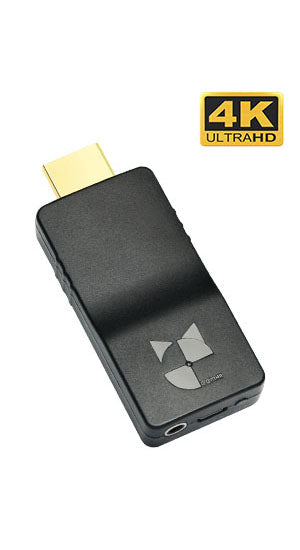 DDMALL Mini Wireless 4K H.265 H.264 HDMI Video Decoder
Small Size, Powerful Features
The DDMALL HDD-20W is a compact, yet professional wireless 4K HDMI decoder which designed for high quality, low latency audio & video decoding and distribution. It supports for decoding up to 4K@60Hz streams and Full HD 1080P 1080I at 60fps. All-in-one, USB-powered design that allows you to connect to TV and projector directly, and utilizes the nearby USB port for powering. Perfect for Digital Signage, House of Worship, any application that needs decoding your content on a screen.
Key Features
• Decodes up to Ultra HD 4K@60Hz, and Full HD 1080i 1080p at 60fps.
• Supports H.265/HEVC & H.264/AVC.
• Compact in size and light in weight.
• Powered by USB. No proprietary AC power adapter needed.
• Supports external 3.5mm audio output.
• Supports for adding 30 sources for decoding.
• Ultra low latency decoding. Supports SRT, UDP, RTSP and ONVIF. • Industry-leading quality and reliability. Supports 24/7 working.
Specifications
• Supports H.265/HEVC & H.264/AVC
• Supported Protocol: SRT, RTSP, UDP and ONVIF
• Supported Output Resolutions: 3820×2160P@60/50/30/25/24Hz, 1920×1080p@60/50/30/25/24Hz, 1920×1080i@60/50Hz, 1280×720P@60/50Hz
• Supported Decoding Resolutions: 3820×2160@60/30Hz, 1920×1080p@60/30Hz, 1280×720p@60/30Hz
• Audio Output: HDMI LPCM Audio, 3.5mm Audio
• Audio Decoding Format: AAC, G.711u
• Supports remote management in WAN (WEB)
• Power Supply: USB-Powered

What's In the Package
• 1× HDD-20 HDMI Decoder, 1×HDMI Male to Female Cable, 1×Micro USB Power Cable, 1×User Manual, 1×Customer Support Card
●【4K@60Hz Decoding Capability】 The DDMALL HDD-20W Mini Wireless HDMI Encoder is able to decode your A/V content from your IP camera, media sever via your Wi-Fi network or hotspot connectivity. Supports for decoding up to 4K (3840×2160@60/50/30/25/24Hz) and supports 4K (3840×2160@60/30Hz) output. HD resolutions support 1080p@60/50/30/25/24Hz, 1080i@60/50Hz and 720p@60/50Hz. Compatible with H.264 & H.265 streams. HDMI 2.0 compliant.
●【Multiple Protocols Supported】 Supports SRT for low latency and high performance video decoding. Also supports RTSP, ONVIF and UDP protocols. Supports adding up to 30 sources for decoding. Advanced configuration and device status through intuitive web-based user interface. Easy to use and operate.
●【Enhanced Audio Experience】 The HDD-20W Mini Decoder supports HDMI LPCM audio and an external 3.5mm audio output that allows you to connect to your 3.5mm sound bar, ear-phone and other 3.5mm audio equipment for enhanced audio experience.
●【Compact Size & USB-Powered】 Compact, all-in-one design that connects directly to your TV, projector, and monitor, eliminates the needed for extra HDMI cables needed. The HDD-20W can be powered by universal USB port, no proprietary AC power adapter needed. It is perfect for Digital Signage, Sports Stadiums, House of Worship, any application that needs decoding your content on a screen.
●【Buy with Confidence】 DDMALL has over 20 years' experience in designing and manufacturing Pro A/V products. Our passion for unique design brought our vision, and products, to life. We believe in our products, that's why we are confident in offering 3-Year worry-free manufacturer warranty and free lifetime technical support to our customers. If you have any questions, please do not hesitate to contact us. We're always standing by to help.
   •  Supports H.265/HEVC & H.264/AVC
   •  Supported Protocol: SRT, RTSP, UDP and ONVIF
   •  Supported Output Resolutions: 3820×2160P@60/50/30/25/24Hz, 1920×1080p@60/50/30/25/24Hz, 1920×1080i@60/50Hz, 1280×720P@60/50Hz
   •  Supported Decoding Resolutions: 3820×2160@60/30Hz, 1920×1080p@60/30Hz, 1280×720p@60/30Hz
   •  Audio Output: HDMI LPCM Audio, 3.5mm Audio
   •  Audio Decoding Format: AAC, G.711u
   •  Supports remote management in WAN (WEB)
   •  Power Supply: USB-Powered