SKU:HE-30
Regular price
$189.00 USD
Regular price
$189.00 USD
Sale price
$189.00 USD
Unit price
per
Sale
Sold out
Share
25 in stock
View full details
[short_description]
【4K True UDH HDMI Transmitter】The HE-30 HDMI video extender extends 4K HDMI A/V signals from point to point with up to 230ft/70m range in 4K@60Hz over single cat6/cat7 cable, while transmission range up to 295ft/90m in 1080P. 
【Multiple Chroma Subsampling Supported】The HE-30 HDMI transmitter receiver kit supports 4:4:4, 4:2:2 and 4:2:0. More saturated color and video quality of your video transmission will take place. The transmitter also supports full range of audio formats like Dolby True HD, DTS-HD Master audio, LPCM, DTS, Dolby-AC3/DSD. 
【Plug and Play】The HE-30 HDMI extender kit over cat6 or cat7 can be easy set up. Both the TX transmitter and RX receiver are USB-powered. Plug and play. 
【POC Supported】The HE-30 HDMI extender kit supports POC so you will only need to power the TX transmitter or the RX receiver. then it will work normally.
【Auto-EDID Supported】With built-in auto-EDID emulation technology, the HDMI video transmitter allows to copy EDID information for the EDID compliant displays to ensure accurate display performance. 
 [/short_description] [product_description]
DDMALL Technology
DDMALL Technology is the proprietary brand of Atel Technologies Co., Ltd. As a company comprised of R&D and manufacture, we have been dedicated to hardware video codec products for over 20years. Foot on video over IP industry, we have developed a series of hardware HDMI over Ethernet transmitters, extenders, live video encoders, decoders, A/V processors, matrix switchers, HDMI cables etc. To meet the ever-growing segmented market demands and keep our customers one-step ahead in the market, we will stay innovative and sharpen our technology to provide more versatile, reliable, stable but less cost and carbon footage solutions for video transmission, distribution and live streaming.
The DDMALL HE-30 4K HDMI extender kit allows you to transmit 4K@60Hz video with HDR  with range up to 230ft/70m over a single CAT6/CAT7 cable, while transmit 1080p video with range up to 295ft/90m. Leveraging the ultra-mini form factory, the HDMI video transmitter receiver  can be hidden in the back of your HDMI source, TV, projector and various device simply. With POC functionality, the TX transmitter can take power from the HDMI source directly and you just need to power the RX receiver by USB type-c cable. With EDID function, the extender kit will copy the EDID signal from the receiver's display automatically to ensure more stable and suitable video performance.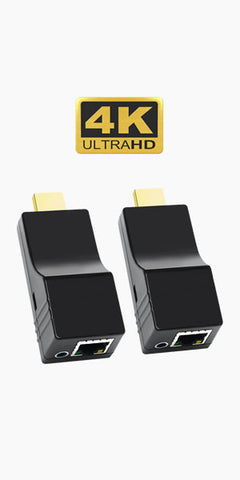 DDMALL 4K HDMI Extender over Cat 6/7 
Small Size, Powerful Features
Key Features
• Supported resolution up to 4K@60Hz at up to 230ft/70m while 1080p at up to 295ft (90m).
• Chroma subsampling supports 4:4:4, 4:2:2 and 4:2:0.
• EDID management - auto EDID pass through, no configuration needed.
• Power Over Cable(PoC) -  only need to power the receiver unit.
• USB-Powered - no proprietary AC power adapter required.
• All-in-one design - easy to install. Ideal for projection system, home A/V system and more.
• Professional-grade quality - stable and reliable 24/7 working.
Specifications
• Extension Range: Max. 230ft /70m in 4K@60Hz; 295ft/90m in Full HD 1080P.
• Supported Resolutions: 3840×2160p@60/30Hz, 1920×1080p@60/50/30Hz, 1920×1080i@60/50/30Hz, 1280×720p@60/50/30Hz
• Supported Audio Formats: Supports a full range of HD audio, includes Dobly TruHD, DTS-HD Master Audio, LPCM, DTS, Dobly-AC3, DSD, etc.
• Compliant with HDMI 2.0, HDCP 2.2, HDCP 1.4
• Plug and play - no setup is needed.
• Wide Compatibility: Compatible with various devices like set-top boxes, blu-ray players, Xbox, NVR systems, game consoles, laptops, TVs, projectors, HDMI monitors and more.
• LED Indicator: Green Light - Power; Yellow Light - Signal
• Power Consumption: Transmitter (2.5W), Receiver (2W)
What's in the Box
• 1× 4K HDMI Transmitter
• 1× 4K HDMI Receiver
• 2× HDMI Male to Female Cable
• 2× Micro USB Power Cable
• 1× User Manual