SKU:HIP-20RX
Regular price
$299.00 USD
Regular price
$299.00 USD
Sale price
$299.00 USD
Unit price
per
Sale
Sold out
Share
Low stock: 10 left
View full details
[short_description] 
【Portable HDMI over IP Transmitter Receiver】Ultra-mini(75x32x22mm) and ultra-lightweight(35g). The HDMI extender is ideal for video transmission and broadcasting systems that require frequent move or have strict installation space. (the RX receiver cannot be used independently, and it must pair with HIP-20 TX transmitter) 
【Easy Setup with Cable-Free】Power consumption is only 2W. The HDMI over cat6 or cat7 extender receiver is USB-powered and it accepts power from the USB port of display terminals without extra power adapter. Type-A male design of the HDMI interface makes it easy to plug to the HDMI port of display terminals; no additional HDMI cable is required, making it easy and tidy for setup. 
【4K & HD Decoding Output】Support 4K HEVC decoding. The HDMI ethernet extender receiver decodes 4K IP network stream encoded from the HIP-20TX transmitter to HDMI signal for output in 4K@30Hz; experience true 4K high quality video easily. Support to downgrade 4K HEVC to 2K HEVC for decode and output in 2K.
【Transmission Latency as Less as 0.08s】HDMI signal long-distance  transmission is achieved over twisted-pair cables with latency as less as 0.08s in 1080P transmission. Support 1-to-1 network cable direct connection with transmission range up to 492ft/150m. Support the TX and RX receivers to join the same LAN via a switch and perform video transmission over the LAN. As a HDMI over powerline extender, AV transmission can be conducted over the exising power lines with a powerline adapter. 
【1-to-Many Video Broadcasting】Multiple RX receivers can be purchased separately to perform 1-to-many video broadcastting over the LAN. 1 TX transmitter supports up to 253 RX receivers(1-to-253 broadcasting). The TX and RXs can be added to the same LAN through a switch without setup to realize video transmission and broadcasting. 
[/short_description] [product_description]
DDMALL Technology
DDMALL Technology is the proprietary brand of Atel Technologies Co., Ltd. As a company comprised of R&D and manufacture, we have been dedicated to hardware video codec products for over 20years. Foot on video over IP industry, we have developed a series of hardware HDMI over Ethernet transmitters, extenders, live video encoders, decoders, A/V processors, matrix switchers, HDMI cables etc. To meet the ever-growing segmented market demands and keep our customers one-step ahead in the market, we will stay innovative and sharpen our technology to provide more versatile, reliable, stable but less cost and carbon footage solutions for video transmission, distribution and live streaming.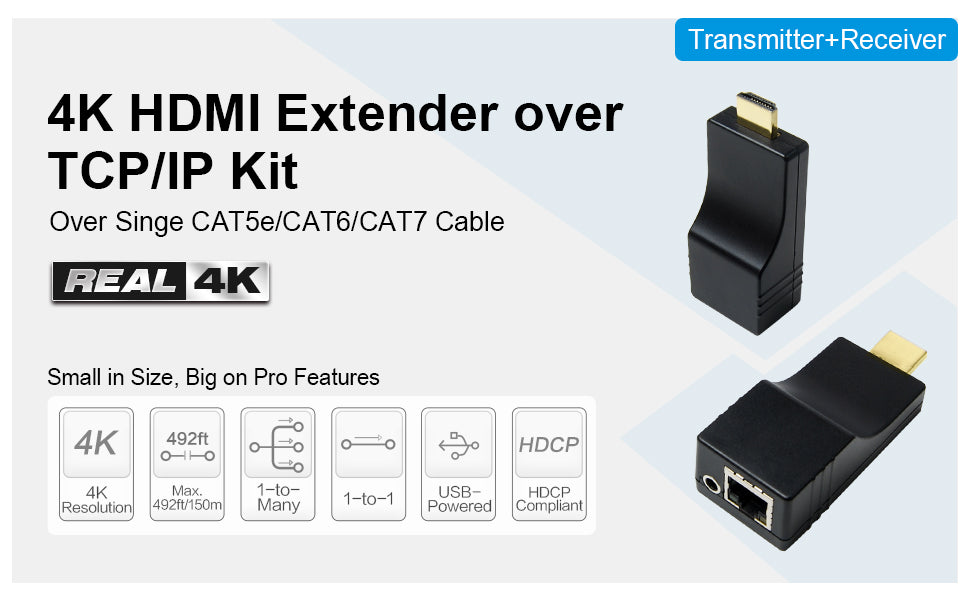 HIP-20R is the 4K HDMI over IP extender receiver of HIP-20 with ultra compact form factor, making it wonderful for the video applications that require frequent move or have tiny installation space. It is USB-powered and it accepts power from the USB port of display terminals. With HIP-20T, the portable HDMI extender receiver offers a reliable video transmission in 4K@30Hz with HEVC H.265, and the latency is as less as 0.08s for 1080P transmission. In 1-to-1 video transmission scenarios, the HDMI ethernet extender can be set up over single cat6 or cat7 with transmission range up to 492ft/150m. In 1-to-many(up to 253) video transmission scenarios, the TX transmitter and RX receivers are connected to the switch over twisted-pair cables on the same LAN to perform video transmission and broadcasting. Beyond that, as a HDMI over poweline video transmitter receiver, it can be set up on the existing power lines with the help of powerline adapter. More than that, it allows to downgrade 4K HEVC video to 2K HEVC for decoding and output in 2K as well. The HDMI transmitter receiver is ideal for the applications that need stable and reliable 4K ultra-high quality video tranmission.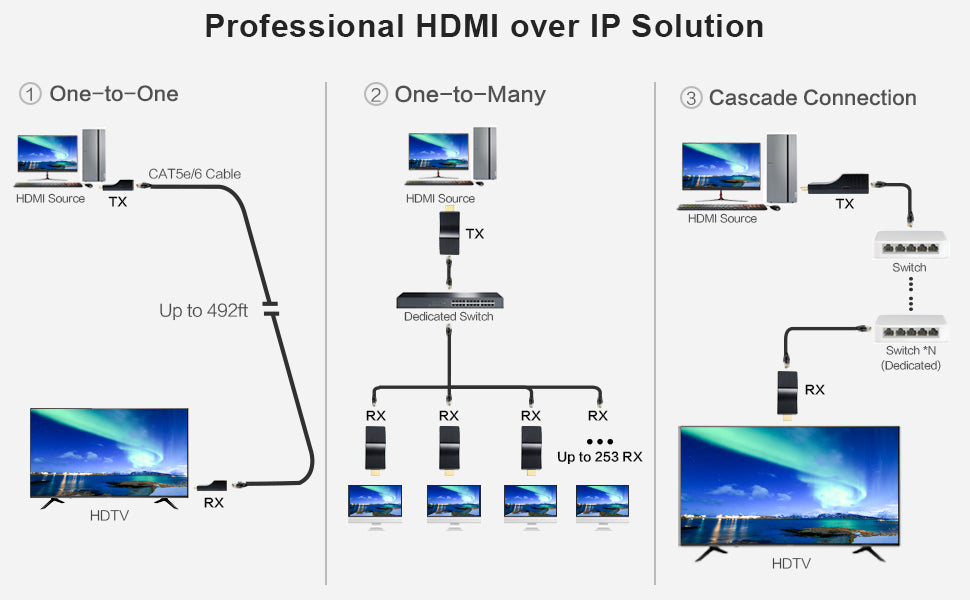 Specifications
-Transmission Range: 496ft/150m (point to point)
-Supported Video Input Resolution: 720p@50Hz, 1080i@30Hz, 1080i@50Hz, 1080p@60Hz, 1080p@50Hz, 1080p@60Hz, 2560×1440@30Hz, 3840×2160@30Hz
Supported Output Resolution: 1920×1080@60Hz, 3840×2160@60Hz
-Supported Audio: 3.5mm Analog Audio, HDMI LPCM 2.0
-Product Weight: 0.04lb (Each Unit)
-Dimension: 3.0×1.2×0.8 inches

What's In The Box
1× HDMI Transmitter
1× HDMI Receiver
1× HDMI Male to Female Cable
1× HDMI Female to Female Adapter
2× 3M Double Sided Tape
1× Micro USB Power Cable
1× User Manual

Friendly Reminder
* For the best video quality and longer distance extension, we recommend you to use high quality CAT5e/CAT6 cable.
* Please use unmanaged, dedicated network switch. Do not connect it to your standard routers.