DDMALL HE-20 2K HDMI over Cat6 Extender, Video Transmitter and Receiver Kit 330ft/100m
$119.99
available:
In Stock
Quick Overview:
【HD Transmission with 330FT/100 Range】The HE-20 HDMI video extender extends HDMI A/V signals from point to point with up to 330ft/100m range in full HD 1920*1080@60Hz over single cat6/cat7 cable.  
【Zero Delay & Zero Loss】The HE-20 HDMI transmitter receiver kit extends 1920*1080@60Hz video in zero delay without any loss of your video. It delelivers your HD clear video in real time. 
【Plug and Play】The HE-20 HDMI extender kit over cat6 or cat7 can be easy set up. Both the TX transmitter and RX receiver are USB-powered. Plug and play. 
【POC Supported】The HE-20 HDMI extender kit supports POC so you will only need to power the TX transmitter or the RX receiver. then it will work normally.
【Auto-EDID Supported】With built-in auto-EDID emulation technology, the HDMI video transmitter allows to copy EDID information for the EDID compliant displays to ensure accurate display performance. 
DDMALL Technology
DDMALL Technology is the proprietary brand of Atel Technologies Co., Ltd. As a company comprised of R&D and manufacture, we have been dedicated to hardware video codec products for over 20years. Foot on video over IP industry, we have developed a series of hardware HDMI over Ethernet transmitters, extenders, live video encoders, decoders, A/V processors, matrix switchers, HDMI cables etc. To meet the ever-growing segmented market demands and keep our customers one-step ahead in the market, we will stay innovative and sharpen our technology to provide more versatile, reliable, stable but less cost and carbon footage solutions for video transmission, distribution and live streaming.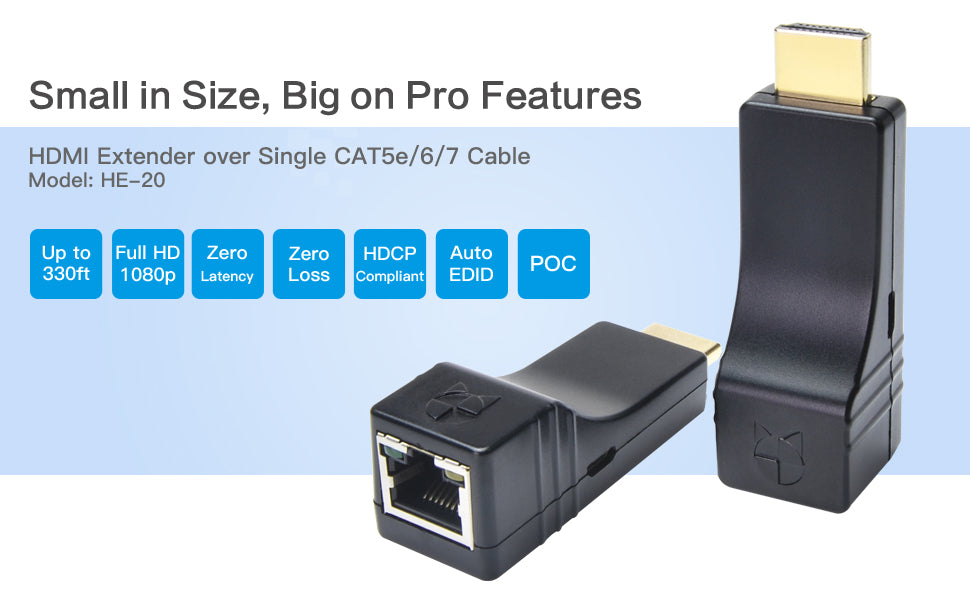 The HE-20 is an ultra-mini and ultra-lighweight HDMI extender over cat. It extends HDMI signals up to 330ft/100m over a single CAT6/CAT5e cable without signal loss in zero delay, while maintaining superior video/audio quality. The HDMI over Ethernet video extender is compliant with HDCP and EDID to enhance deep color and optimal resolutions up to 1080p@60Hz. No bulky power adapters are needed. Just plug and play. The HDMI video transmitter receiver kit is ideally for the applications like home theater, house of worship, classroom, videoconferencing, outdoor signage where HDMI video and audio transmission is needed. 
DDMALL 330ft/100m HD 1080p HDMI Extender
Small Size, Powerful Features
The DDMALL HE-20 is a compact and professional full HD HDMI transmitter receiver kit that extends HDMI signal from a source device like Blu-ray player, media box, PS4 to a remote display terminal like TV, projector with range up to 330ft/100m over a single CAT5e/CAT6 cable with zero delay and zero signal drop-out. You will be amazed at the stability and reliablity of high quality video transmission in HD performed by the mini video extender kit. 

Key Features
• Compact size and lightweight- super easy to install.
• Extension range: up to 330ft/100m in1080p over a single CAT5e/CAT6 cable.
• Simply plug and play, and no setup is required.
• Crystal-clear audio & video with zero delay and no signal drop-out.
• Support POC (Power over Cable); you will only need to power the RX receiver unit.
• USB-powered. No more bulky power adapter is needed.
• All-in-one design. No extra HDMI cables are needed.
• Durable quality: support 24/7 working.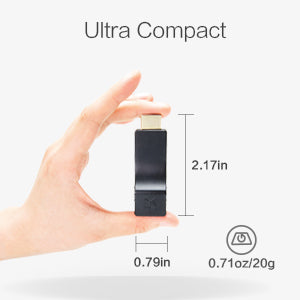 Compact Form Factor
Ultra-mini size--0.79×0.79×2.17 inches and ultra lightweight--only 0.71oz. Simply plug the HDMI extender directly to your laptop, Blu-ray player, TV, projector easily without any HDMI cable clutters. The RX receiver can be hidden in the back of your TV, projector and various devices simply. The HDMI transmitter receiver kit is USB-powered, so it accepts power from the nearby USB port of your signal source or display easily.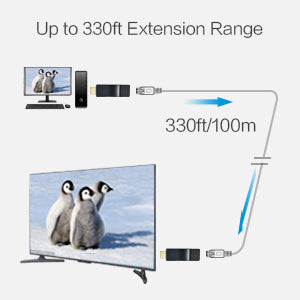 330ft/100m Extension in Full HD 1080P
With the HE-20 mini HDMI extender, you can easily extend a HDMI source to a display with up to 330ft/100m range over a single CAT5e/CAT6/CAT7 cable, while maintaining superior video and audio quality wihout any signal loss in zero delay.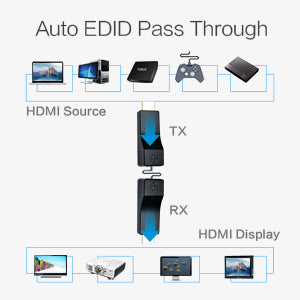 Auto-EDID Emulation Technology
Built-in uutomatic EDID emulation technology allows the HE-20 video extender to copy EDID information from EDID compliant displays and ensures accurate display performance; no additional configuration is needed. It is designed to make signal extension simple and easy.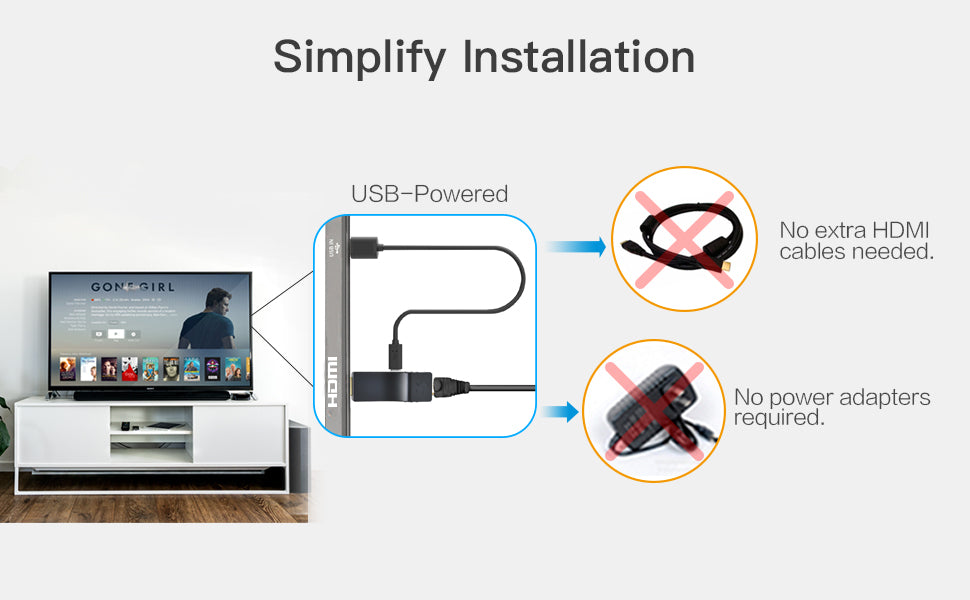 Superior Safety
DDMALL's safety system provides short circuit prevention, temperature control, over-voltage protection and more advanced features to keep you and your devices completely safe.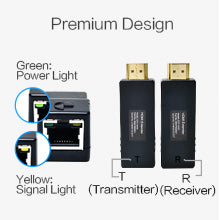 Energy-Efficient 
The HDMI extender over cat 6/ cat 7 is mini in form factor with ultra-low power consumption of 1.7W. It consumes about 80% less power than other extenders when perform same quality video transmission, leaving as less carbon footprint as possible on the Earth.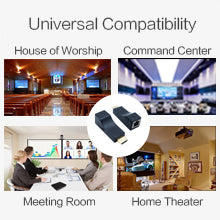 Wide Applications of the HDMI Extender 
• Church Projection Systems
• Home Audio-Video Systems
• Digital Signage
• Lecture Hall & Meeting Room
• Command Center
• Public and Private Exhibitions


Specicifications: 
Transmission Range: up to 330ft/100m in full HD 1080p.
Max. Supported Resolution: 1920*1080p@60Hz
HDMI Standard: HDMI 1.4; HDCP 1.2 compliant
What's in the Box
1*HDMI TX transmitter 
1*HDMI RX receiver 
2*micro USB power cables
1*user manual 
Reminder
• The HE-20 supports POC (Power over Cable), you need to power the RX receiver unit only to keep the set working normally. When thep power voltage of some signal sources or displays is too low to support normal working the the HDMI transmitter receiver kit, you need to power both the transmitter and receiver.
• This kit process point to point video transmission and comes with one TX transmitter and one RX receiver. It won't need to connect to routers or network switches. 
✔ [330FT 1080P LOSSLESS EXTENSION] With this compact HDMI extender kit, you can easily extend Full HD 1080p video and audio from your HDMI source to a remote display up to 330ft (100m) over a single CAT5/CAT5e/CAT6 cable, while maintaining crystal clear video and audio quality. Featuring zero latency and zero signal degradation, you will be amazed at how this mini extender kit show you the Full HD video/audio with super stability and reliability, even at 330ft away from your HDMI source.
✔ [POWER SAVING] Featuring ultra low power consumption at only 1.7W, our mini extender uses about 80% LESS power than traditional extenders. This means you are using less energy to do the same job, reducing your home's or office's energy waste and saving money. It can be powered from any USB connection (e.g. a USB port on media Box, projector, HDTV). It supports POC, which means you'll only need one power source to power your extender. Forget about bulky AC adapter, we've got you covered.
✔ [NO EXTRA HDMI CABLES NEEDED] This HDMI extender kit has been specially crafted for your smooth and tidy installation. It features a small footprint and a built-in HDMI Type-A male connector that connects directly to your source and display, reducing clutter by eliminating the need for extra HDMI cables. Compact size that can be hidden on the back of TV, projector and various devices simply. Ideally suited for video conferencing, projection system, home A/V system, digital signage and more.
✔ [PLUG AND PLAY] No additional configuration needed. Built-in advanced Auto EDID Emulation technology allows the extender to copy EDID information from EDID compliant displays and assures accurate display performance. Connect your HDMI source to the Transmitter, run a CAT5e/6 cable from the Transmitter to Receiver, and connect your HDMI display to the Receiver. Then power the extender using any nearby USB connection. Is that easy!
✔[BUY WITH CONFIDENCE] Short circuit prevention, temperature control and more advanced features to keep you and your devices completely safe. At DDMALL, we pride ourselves on providing innovative and high quality A/V products to our customers. We believe in our products, that's why we are confident in offering 3-Year worry-free manufacturer warranty and free lifetime technical support. REMINDER: This extender is designed and manufactured by DDMALL. Please be aware of imitations.