DDMALL HE-15 HDMI over Cat Extender, Video Transmitter and Receiver Kit with 196ft/60m in Zero Delay
$99.99
available:
In Stock
Quick Overview:
【196FT/60 Transmission Range】The HE-15 HDMI video extender extends HDMI A/V signals to up to 196ft/60m in full HD 1920*1200@60Hz over one cat6/cat7 cable. Experience high quality video easily. 
【Zero Delay & Zero Loss】The HE-15 HDMI transmitter receiver kit extends 1920*1200@60Hz video in zero delay without any loss of your video. It delelivers your HD clear video in real time. 
【Plug and Play】The HE-15 HDMI extender kit over cat6 or cat7 can be easy set up. the TX transmitter and RX receiver can take power from most signal sources or display terminals. or they can be USB powered easily with power adapter-free. Plug and play without complicated setup.  
【Multiple Audio Types Supported】The HE-15 HDMI over cat extender kit support full range of audio types like Dobly TrueHD, DTS-HD Master Audio and LPCM7.1/DTS/Dobly-AC3/DSD. 
【POC & EDID Supported】The HE-15 HDMI extender kit supports POC so you will only need to power the TX transmitter or the RX receiver. then it will work normally. with built-in auto-EDID emulation technology, the HDMI video transmitter allows to copy EDID information for the EDID compliant displays to ensure accurate display performance. 
DDMALL Technology
DDMALL Technology is the proprietary brand of Atel Technologies Co., Ltd. As a company comprised of R&D and manufacture, we have been dedicated to hardware video codec products for over 20years. Foot on video over IP industry, we have developed a series of hardware HDMI over Ethernet transmitters, extenders, live video encoders, decoders, A/V processors, matrix switchers, HDMI cables etc. To meet the ever-growing segmented market demands and keep our customers one-step ahead in the market, we will stay innovative and sharpen our technology to provide more versatile, reliable, stable but less cost and carbon footage solutions for video transmission, distribution and live streaming. 
The HE-15 is one of DDMALL ultra-mini and ultra-lightweigh HDMI over cat video extender.  The HDMI extender kit extends video and audio from an HDMI signal source to a display at up to 196ft/60m with zero loss and zero delay over a single CAT5e/6 cable. Maximum resolution of the HDMI transmitter receiver kit is up to 1920×1200@60Hz. It supports a full range of audio types in HD, including Dobly TrueHD, DTS-HD Master Audio, and LPCM7.1/DTS/Dobly-AC3/DSD. You will be amazed at how this mini extender show you the Full HD video/audio with super stability and reliability, even at 196ft/60m away from your source. 
HDMI over Cat6/Cat7 Extender at Range 196ft/60m
Long Distance
The HE-15 HDMI video transmitter receiver extends HDMI source to display in HD over a single CAT6/7 cable.

Zero Signal Loss
The HDMI over cat extender delivers AV signals with no compression or signal loss over 196ft/60m in zero delay.

Easy Installation
Compact size and USB-powered; the TX transmitter connects directly to your laptop, media player, projector, no extra HDMI cables is needed. The RX receiver can be hidden in the back of projector, TV and powered from the nearby USB port. No adapter is needed. 
Key Features
• Compact form factor: ultra-mini size and ultra-lightweight- super easy for setup.
• Transmission range is up to 196ft/60m in Full HD 1080p over a single CAT6/7 cable.
• Simply plug and play, no setup is required.
• No signal loss with zero compression in zero delay.
• The TX transmitter supports POC (Power over Cable), only the RX receiver need be powered by USB.
• USB-powered. No power adapter needed.
• All-in-one design. No extra HDMI cable is needed.
• Durable quality: Support 24/7 working.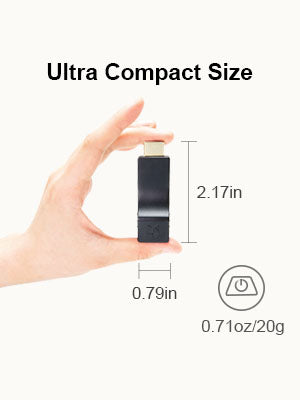 Ultra-Compact Form Factor & Energy Efficient

Ultra-mini size and ultra-lightweight with size of 0.79×0.79×2.17in and weight of only 0.04lb. With ultra-low power consumption of only 1.7W, the mini extender kit  is USB-powered and uses about 80% less power than traditional extenders. It supports POC (Power Over Cable), which means you'll only need to power either the TX transmitter or the RX receiver.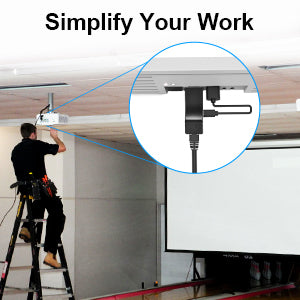 Universal Compabilty
The HDMI video extender is compatible with various devices, such as set-top boxes, blu-ray players, Xbox, NVR systems, game consoles, laptops, TVs, projectors, HDMI monitors and more.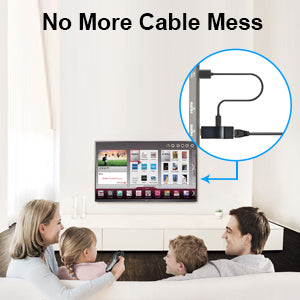 No Extra HDMI Cable is Needed
Featuring a small footprint and a built-in high speed HDMI Type-A male connector, the HDMI video extender connects directly to your devices, reducing clutters by eliminating the need for additional HDMI cables. No extra cost and no more cable mess.
EDID Management

With built-in advanced Auto EDID Emulation technology, the HDMI video extender allows the extender to copy EDID information from EDID compliant displays and assures accurate display performance; no additional configuration is needed.
Specifications
• Extension Range: Max. 196ft/60m in Full HD
• Max. Resolution: 1920×1200@60Hz
• HDMI 1.4 & HDCP 1.2
• Support HDMI High Definition audio for a full range of audio types like Dobly TrueHD, DTS-HD Master Audio, and LPCM7.1/DTS/Dobly-AC3/DSD.
• Support 3D, Deep Color (36 Bits)
• Auto EDID Management
Reminder
1. For better picture quality and longer distance transmission, we would recommend you to use CAT6/CAT7 or above cable.
2. This extender kit trasnmits signal from point to point and comes with one Transmitter and one Receiver. It doesn't need to connect to routers or network switches.