DDMALL HE-20IR HDMI OVER Cat6 IR Extender Kit, Video Transmitter 330ft/100m
$139.99
available:
In Stock
Quick Overview:DDMALL HE-20IR is a mini HDMI over IP extender kit. the transmitter and receiver set extends 2K HD HDMI signal up to 330ft (100m) from HDMI source to an display over a single CAT5e/CAT6 cable, while maintaining superior video and audio quality. This video transmission system is compliant with HDCP and EDID to enhance Deep Color and optimal resolutions up to 1080p/60. It supports plug and play while it is powered by USB type-C cable. It is specially designed to make HDMI transmission simple and easy. HE-20IR is a portable and IR control supported video transmission and distribution system for home theater, blu-ray players, game player, CCTV etc. 


DDMALL Technology
DDMALL Technology is the proprietary brand of Atel Technologies Co., Ltd. As a company comprised of R&D and manufacture, we have been dedicated to hardware video codec products for over 20years. Foot on video over IP industry, we have developed a series of hardware HDMI over Ethernet transmitters, extenders, live video encoders, decoders, A/V processors, matrix switchers, HDMI cables etc. To meet the ever growing segmented market demands and keep our customers one-step ahead in the market, we will stay innovative and sharpen our technology to provide more versatile, reliable, stable but less cost and carbon footage solutions for video transmission, distribution and live streaming.
The DDMALL Advantages
• Leading Technologies in AV solution Field
• 20+ Years' Experience
• Strong R&D Capabilities
• ISO Certification
• OEM & ODM Specialist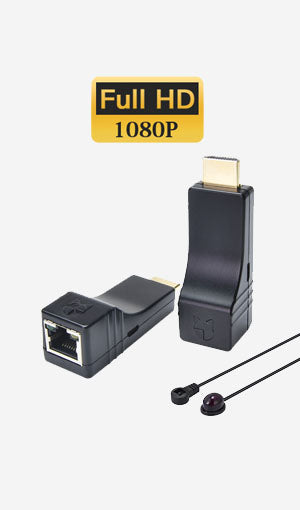 DDMALL 330ft Full HD 1080p HDMI Extender with IR Remote
Small Size, Powerful Features
The DDMALL HE-20IR is a compact, yet professional Full HD HDMI transmitter and receiver kit that extends HDMI signal from a source device (Blu-ray player, media box, PS4, etc.) to a remote TV up to 330ft (100m) over a single cost-effective CAT5e/CAT6 cable. Featuring zero latency and zero signal drop-out, you will be amazed at how this mini extender kit show you Full HD video/audio with super stability and reliability, even at 330ft away from your HDMI source.
Key Features
• Compact size and lightweight- super easy to install.
• Extends up to 330ft in Full HD 1080p over a single CAT5e/CAT6 cable.
• Supports 20~60KHz wide frequency IR remote control.
• Simply plug and play, no setup required.
• Crystal-clear audio & video. No latency and no signal drop-out.
• Supports POC (Power over Cable), only need to power either the transmitter or the receiver unit.
• USB-powered. No more bulky power adapter.
• Durable quality. Supports 24/7 working.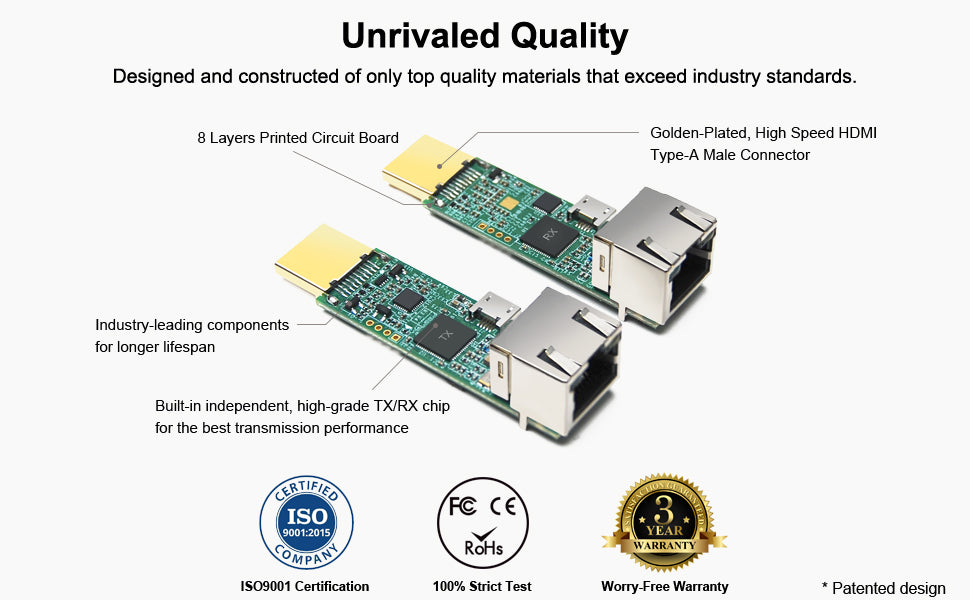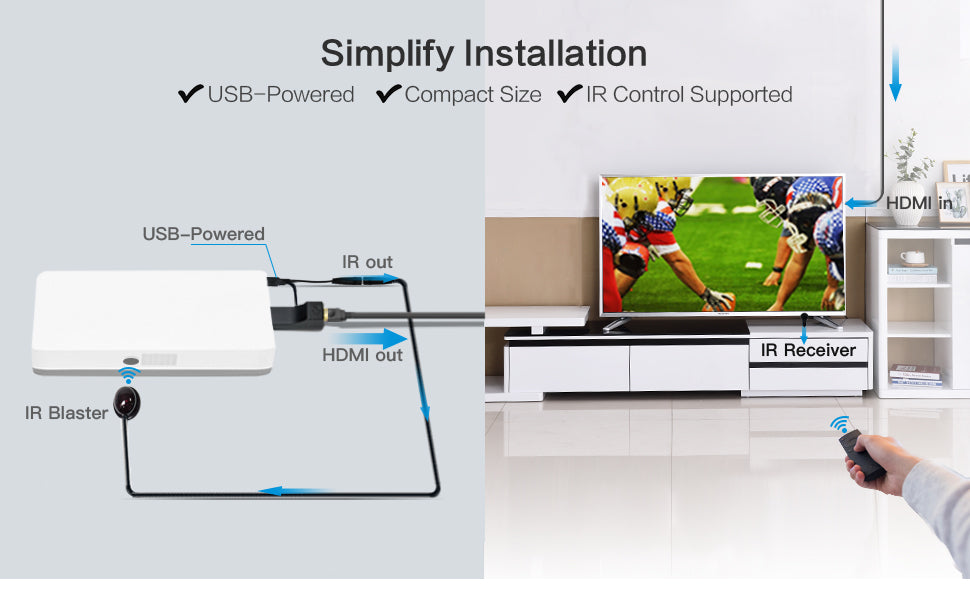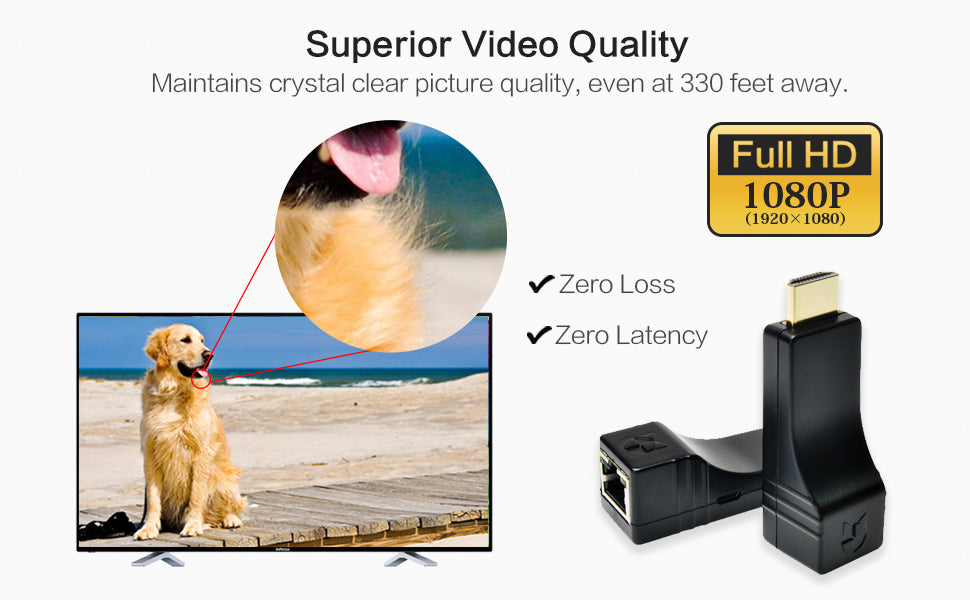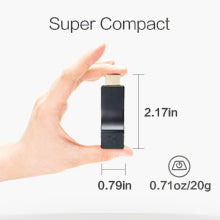 Mini Size
Compact size that connect directly to your laptop, media box, projector, TV, no extra HDMI cables needed. The receiver can be hidden on the back of TV, projector and various devices simply, and it can be powered from the nearby USB port, no power adapter needed.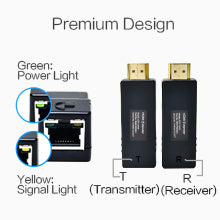 Specifications
• Extension Range: Max. 330ft at Full HD 1080p
• Compatible with HDMI 1.4 & HDCP 1.2
• Power Consumption: 1.7W (Each Unit)
• Supports 20~60KHz wide frequency IR remote control
• Operating Temperature: -10℃~50℃ (14℉~122℉)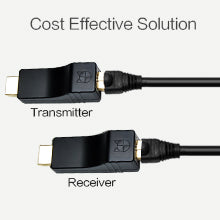 Save Your Money
HDMI signal transmission has never been so easy. Extending HDMI with one CAT5e/CAT6 cable reduces potential failure points while also lowering your cost in cabling.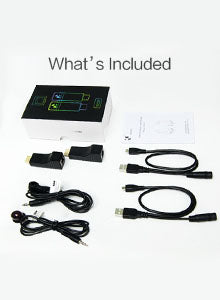 What You Get
• 1× HDMI Transmitter
• 1× HDMI Receiver
• 1× IR Blaster
• 1× IR Receiver
• 2× Micro USB to IR and Power Cables
• 2× Micro USB to IR and Power Cabl
• 1× User Manual

Reminder
• This kit is point to point and comes with one Transmitter and one Receiver. It is not meant to work through routers or network switches. 
✔ [1080P 330FT LOSSLESS EXTENSION]Extends up to Full HD 1080p HDMI video up to 330ft over a single CAT5e/CAT6 cable. It allows for single cable installation, for seamless integration using existing CAT5e or CAT6 infrastructure, avoiding the hassle of running multiple Ethernet cables, while reducing potential failure points.
✔ [IMPRESSIVE PERFORMANCE] No quality loss and no latency. Automatic EDID Emulation technology allows the extender to copy EDID information from EDID compliant displays and assures accurate display performance, no configuration needed.
✔ [IR REMOTE CONTROL] Supports 20~60KHz wide frequency IR remote control. What's Included: 1× HDMI Transmitter, 1× HDMI Receiver, 2× micro USB to IR and Power Cables, 1× IR Blaster, 1× IR Receiver, User Manual.
✔ [SIMPLIFY INSTALLATION] Featuring small footprint and Type-A male connector that connects directly to your source and display, no extra HDMI cables needed. Powered by USB (e.g. a USB port on media box, TV, projector, etc.), no proprietary AC power adapter required. Ideal for projection system, digital signage, home A/V system and extending from areas where power outlet may be limited.
✔ [BUY WITH CONFIDENCE] DDMALL has over 20 years' experience in designing and manufacturing Pro A/V products. Our passion for unique design brought our vision, and products, to life. We believe in our products and we are extremely focused on customer satisfaction, that's why we are confident in offering 3-Year worry-Free manufacturer warranty and free lifetime technical support to our customers. If you have any questions, please do not hesitate to contact us. We're always standing by to help.
Item

Transmitter(T)

Receiver(R)

Max.Resolution

1920x1200p@60Hz

Max.Transmission Distance

330ft(100m),Using CAT6 Cable

HDCP Compatibility

HDCP 1.2

HDMI Standard

HDMI 1.4

Input Connector

HDMI Type-A

RJ-45

Output Connector

RJ-45

HDMI Type-A

IR Pass-thru

One-way

IR Signal

20~60KHz IR devices supported

Power Supply

DC 5V 1A(Micro USB Supply)

Power Consumption

1.7W(Each Unit)

Net Weight

40g(Pair)
Note:Specifications are subject to change without notice.