SKU:HIM10
Regular price
$369.00 USD
Regular price
$499.00 USD
Sale price
$369.00 USD
Unit price
per
Sale
Sold out
Share
25 in stock
View full details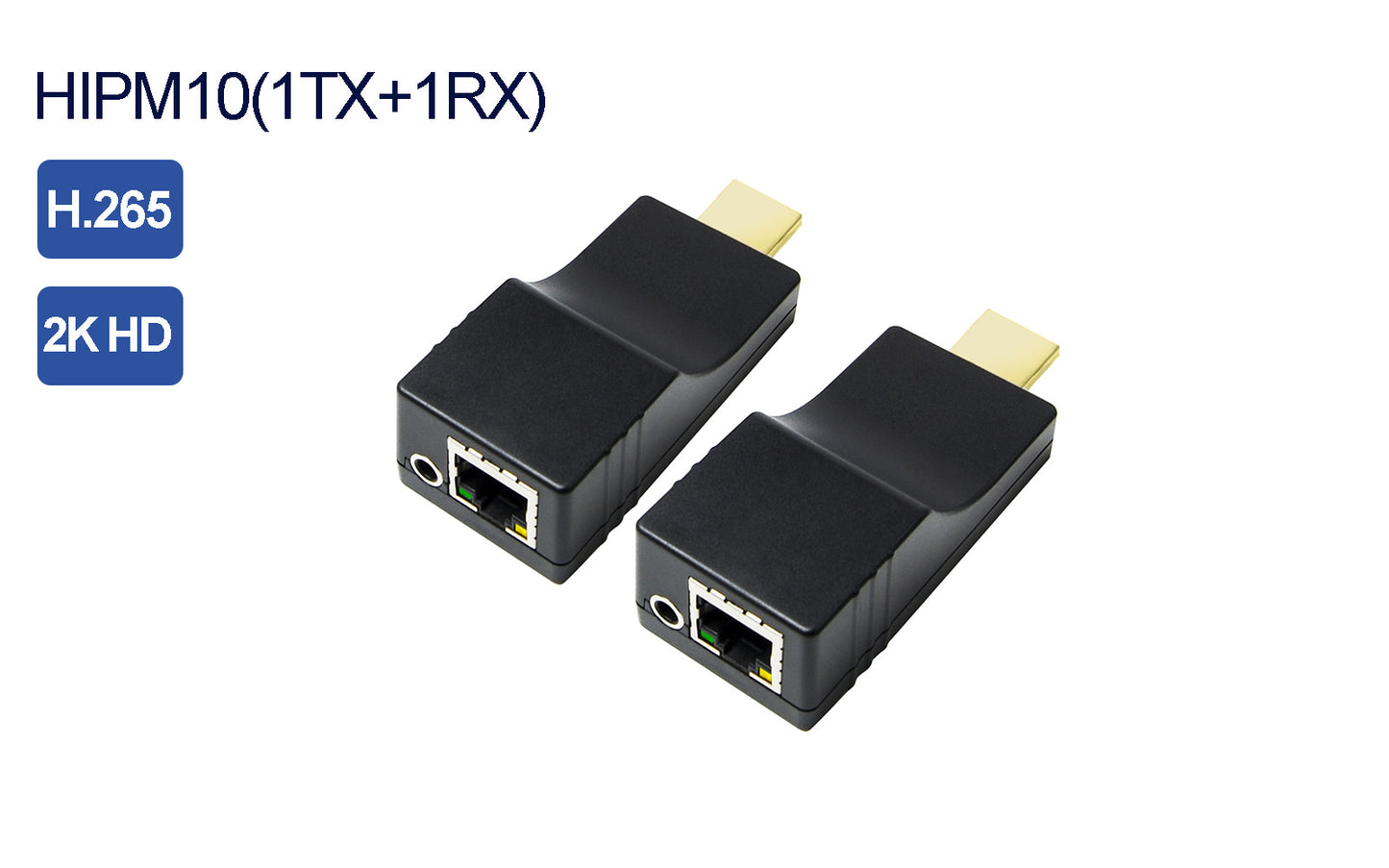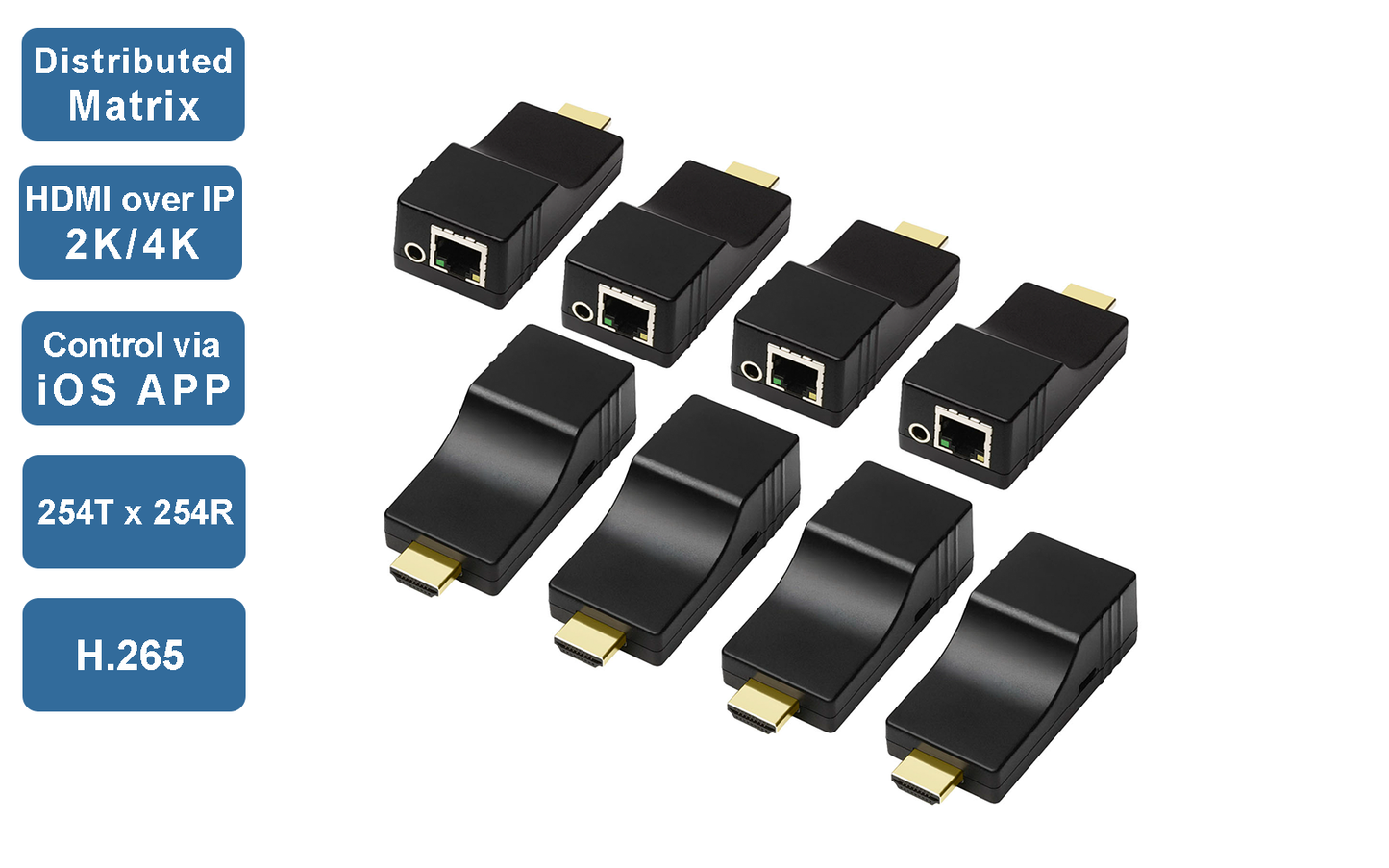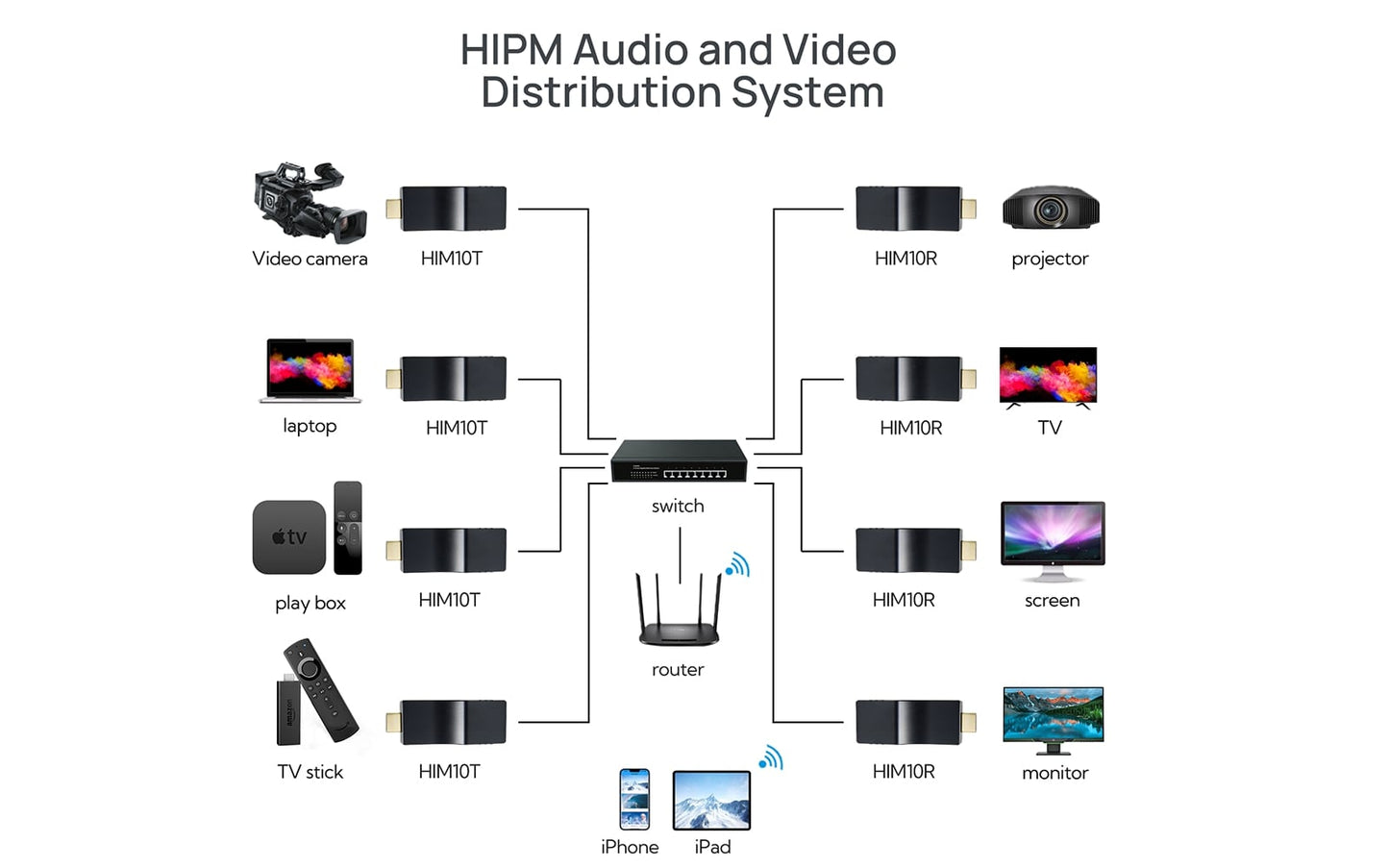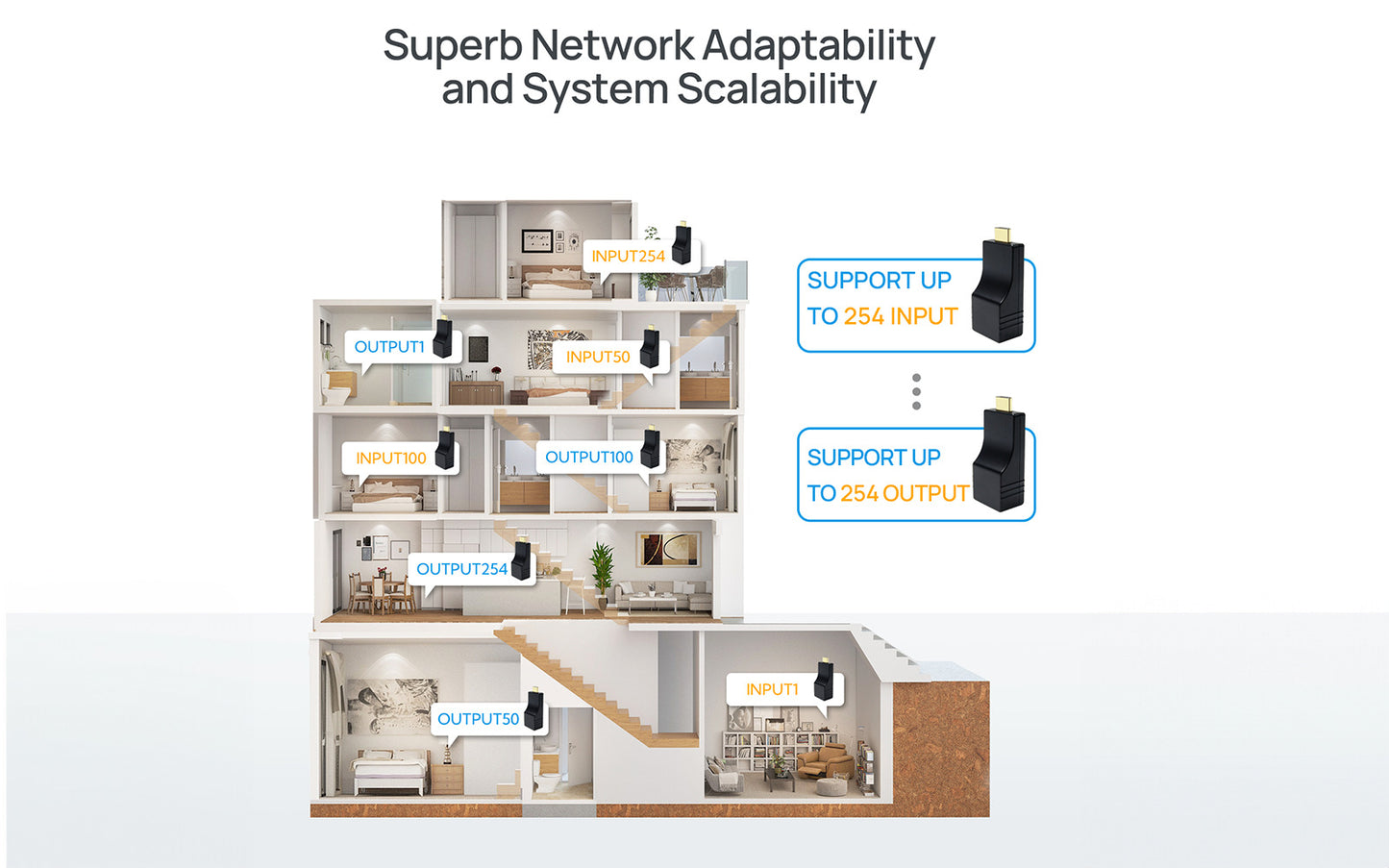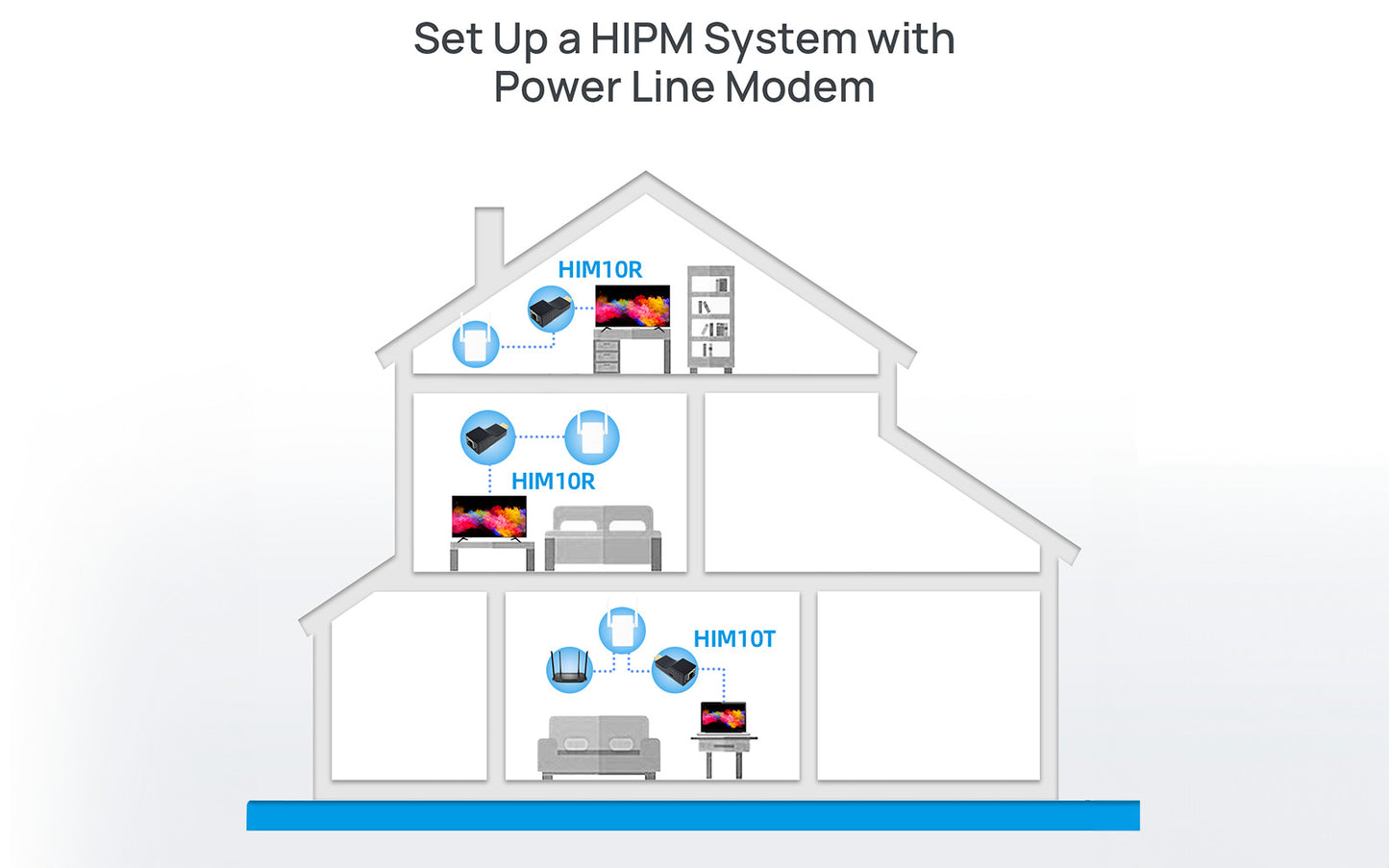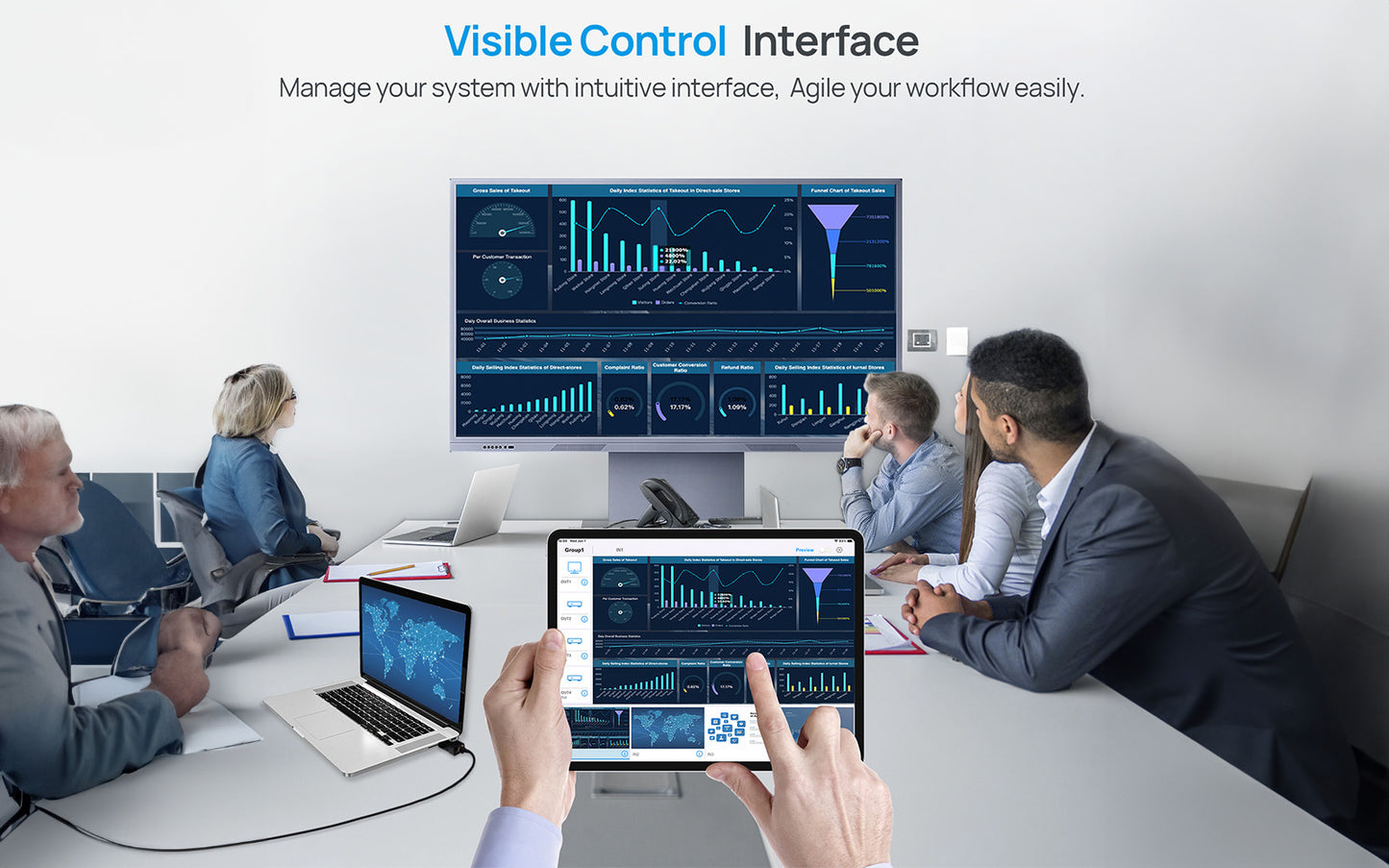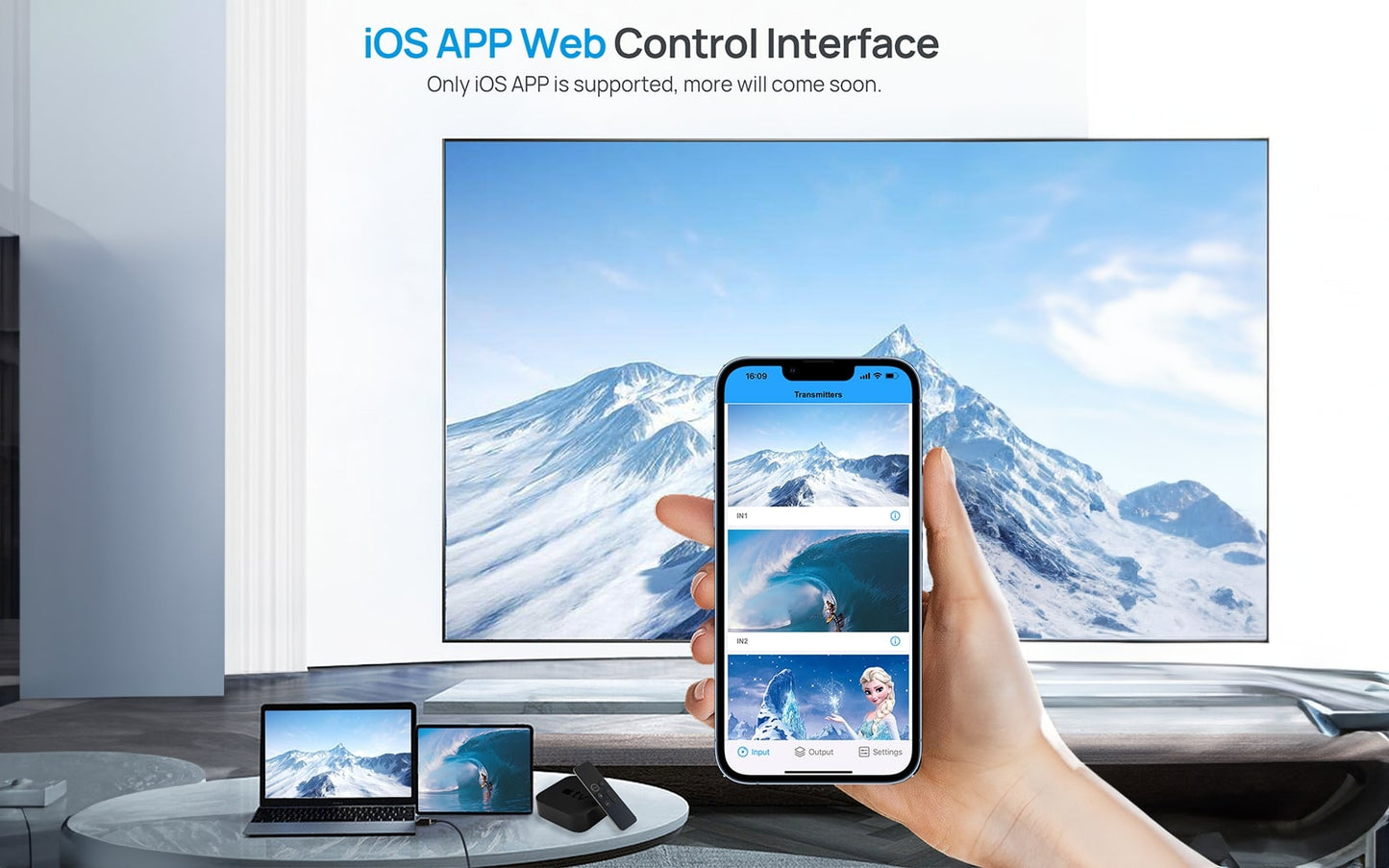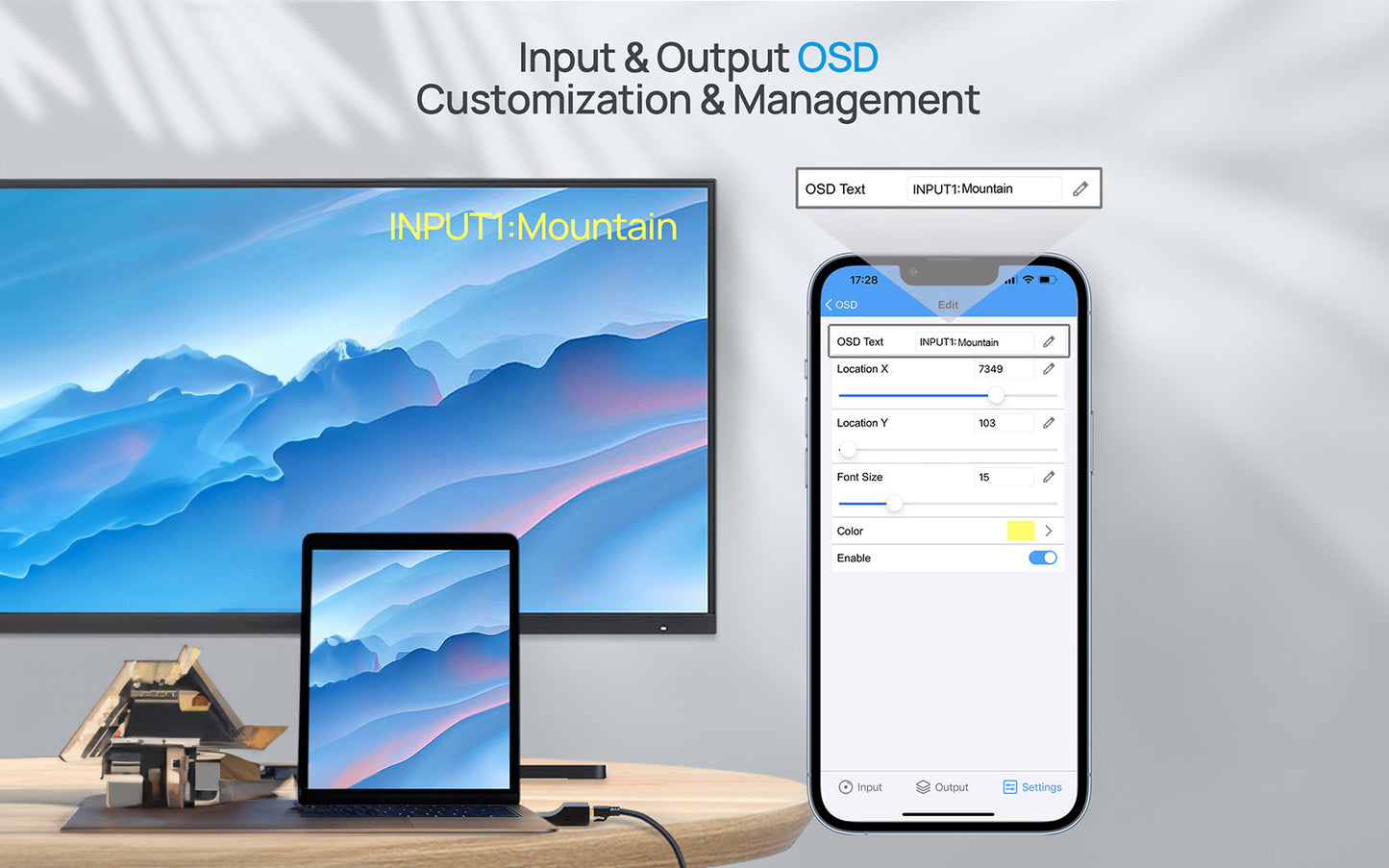 Overview
HIPM: HDMI over IP matrix with scattered transmitters and receivers over same LAN for video distribution, transmission and switching. 
H.265 HDMI Matrix: built-in H.265 technology, video transmission in nearly zero delay and input resolution up to 1080@60Hz and output up to 1080p. True HD video transmission. 
LAN-Based Video System: support up to 254 transmitters and up to 254 receivers to same video distribution system over LAN with the help of switch or powline adapter. Users are granted the freedom of system expansion by adding the numbers of transmitters or receivers to perform 1-to-many, many-to-1, or many-to-many video distribution and broadcasting. 
Easy System Setup: The TXs connect to signal sources such as computer, camcorder, set top box, HD players, NVR, DVD, game consoles, Blu-ray players etc. while the RXs connect to display terminals such as TV, monitor, projectors, multi-screens, large screens etc. all TXs and RXs interact and communicate with each other on LAN to transmit any A/V signal to any display terminal as you wish. USB-powered. each TX or RX can take power from the HDMI signal sources directly or be USB powered by the signal source or monitor. 
Easy System Management: dedicated web UI/Device button/iOS APP to help manage the video system in a unified manner. you can categorize the TXs and RXs, you can set permissions for more users for collaborative management the video systems; you can preview and monitor the system via the APP, you can also switch any of the transmitter signals to any of the reciever monitors for display. 
The HIM10 (HDMI over IP Matrix) is a LAN-based high flexible distributed HDMI audio video distribution system with steam media as the core. The H.265 extender matrix performs 2K audio video transmission, distribution and live broadcast based on LAN, supporting up to 254 transmitters and up to 254 receivers. Users can switch any TX signal to any RX receiver for display via device button/web UI/ios APP. This distributed HDMI over IP matrix switch is perfect for those applications that have scattering installation sites and need unified management of all the distributed AV systems.

Visible Video Preview
You can perform input and output video preview via iOS APP in a simple manner.
Group Management

A HIPM system can be categorized into multiple HIPM subsystems. Each subsystem can be managed as independent group. 
Multi-person Sub-Authority Management 
 multiple persons can collaboratively manage the HIPM system via permission setting.

Home Audio and Video Program Sharing

Integrate the program source devices such as laptops, iPads, play boxes, roku, amazon TV sticks etc. at home, and distribute any program source to the TV in each room for display and each room can also freely choose any program source for watching.
Packing List 

1* HIM10T
1 * HIM10R
2 * Micro USB cable
2 * HDMI male to female cable
2 * HDMI female to female adapter
2 * HDMI male to female adapter (90°)
Reminder
The HIPM is a HDMI video over IP matrix system, you can add different styles of HIPM TXs and RXs to realize 2K or 4K video transmission and distribution. We will list the parameters of HIM10T and HIM10R for example as follow. If you wish for a style with other functions, please contact us.

Description

Transmitter (TX)

Receiver (RX)

Image

 

 

Style

HIM10T

HIM10R

Power Supply

5V/1A USB-powered

5V/1A USB-powered

Power Consumption

2.5W

2.5W

Work Temperature

-10~50℃ (14~122℉)

-10~50℃ (14~122℉)

Storage Temperature

-20~85℃ (-4~185℉)

-20~85℃ (-4~185℉)

Work Humidity

10%- 90%RH (Non-condensing)

10%- 90%RH (Non-condensing)

Weight

32g/0.07lbs

32g/0.07lbs

Dimension

75*32*22mm/2.95*1.26*0.87"

75*32*22mm/2.95*1.26*0.87"

MTBF(mean time between failures)

30,000h

 

30,000h

 

Singal Input

HDMI 1.3 (HDCP1.4 compatible)

HDMI 2.0

Input Resolution

1080p@60Hz,1080p@50Hz,1080p@30Hz,

1080i@60Hz,1080i@50Hz, 1080i@30Hz ,720p@60Hz, 720p@50Hz

/

Codec

H.265

H.265

Output Resolution

1280*720,1920*1080

4096×2160P@60/50/30/25/24Hz 3840×2160P@60/50/30/25/24Hz
1920×1080P@60/50/30/25/24Hz
1920×1080i@60/50Hz 1280×720P@60/50

Audio Input

HDMI, Mic in, Line in

HDMI, line Out

Audio Codec

AAC

AAC

Audio Bitrate

64kbps~256Kbps

64kbps~256Kbps