SKU:HIP-10
Regular price
$499.00 USD
Regular price
$499.00 USD
Sale price
$499.00 USD
Unit price
per
Sale
Sold out
Share
25 in stock
View full details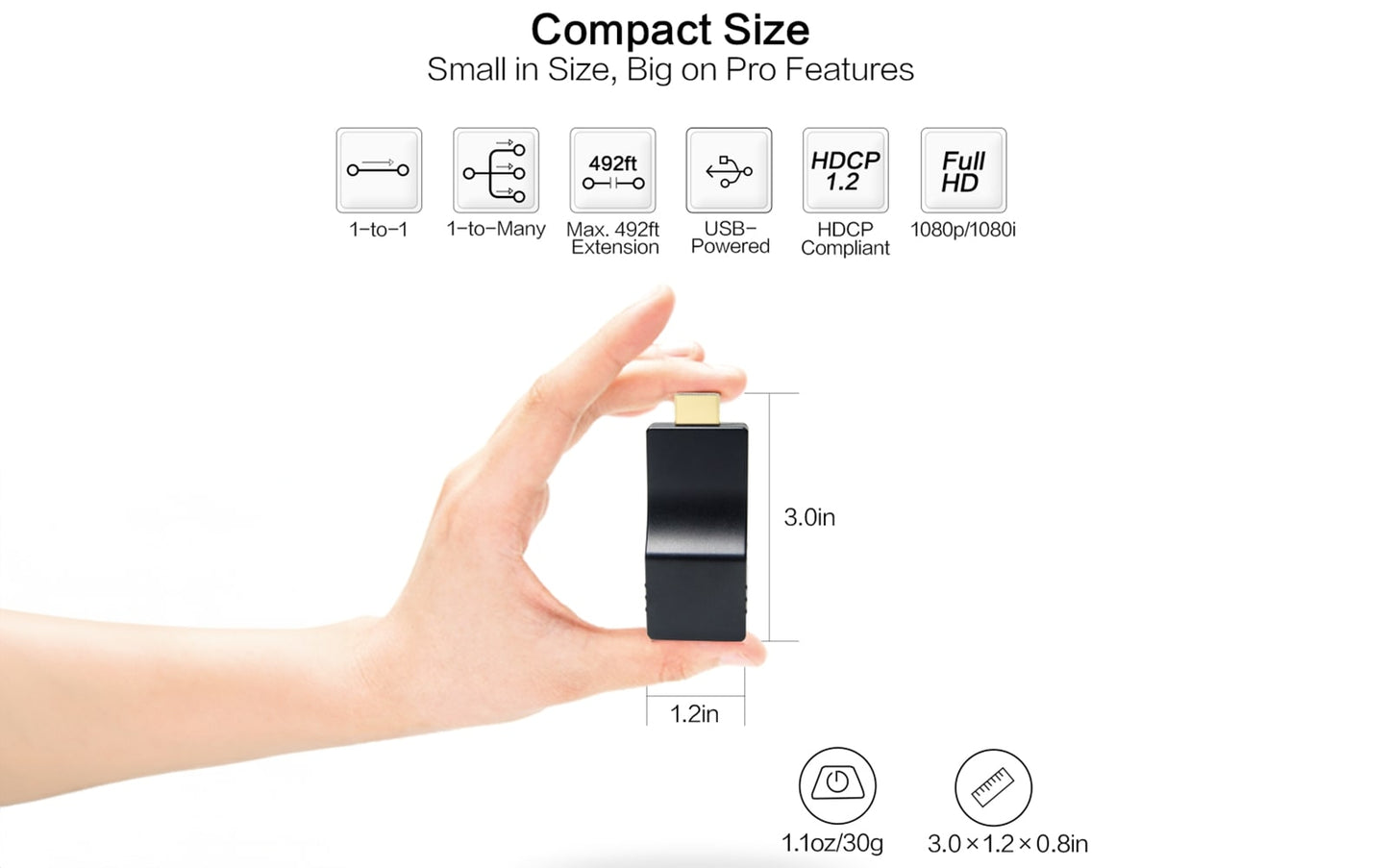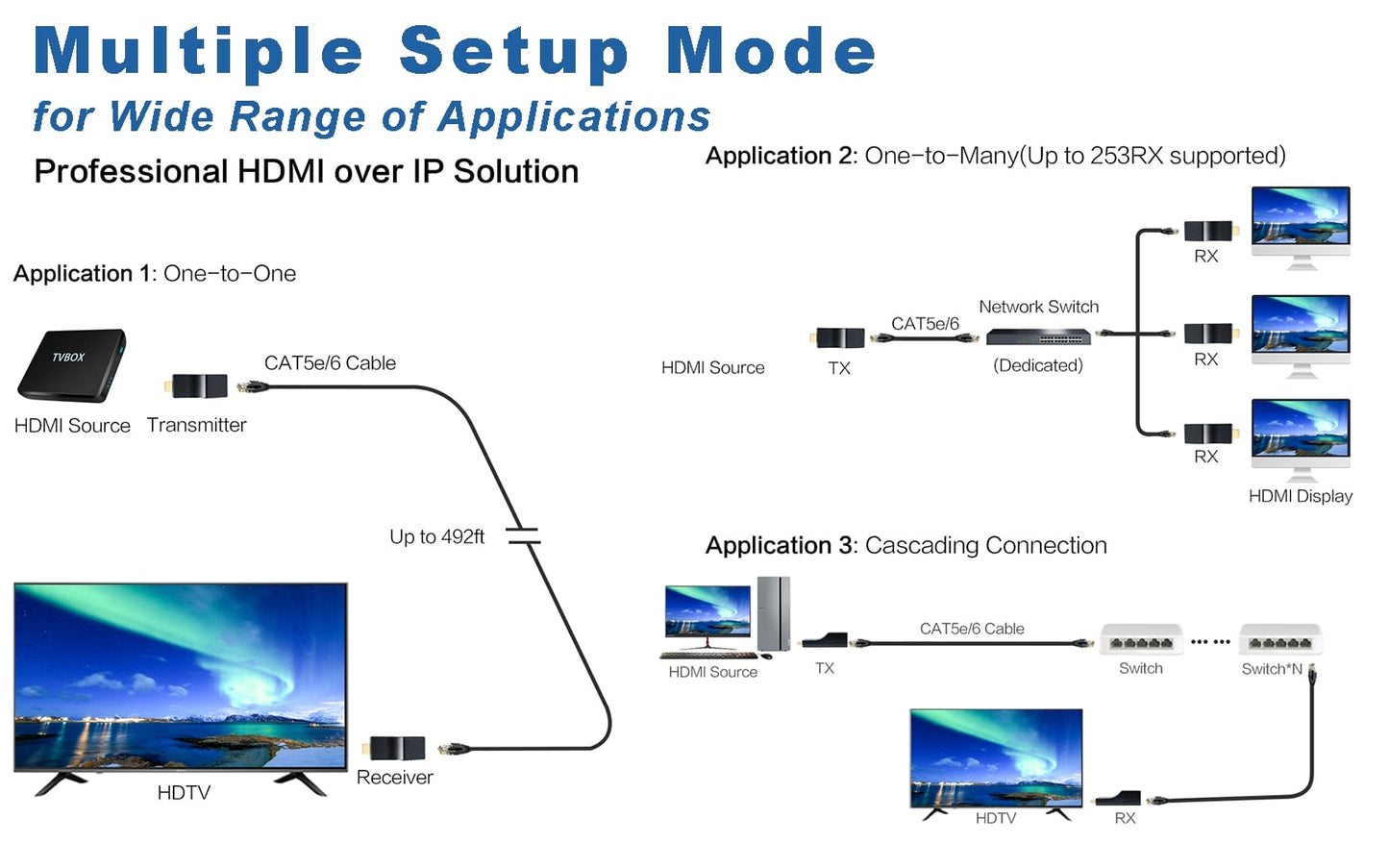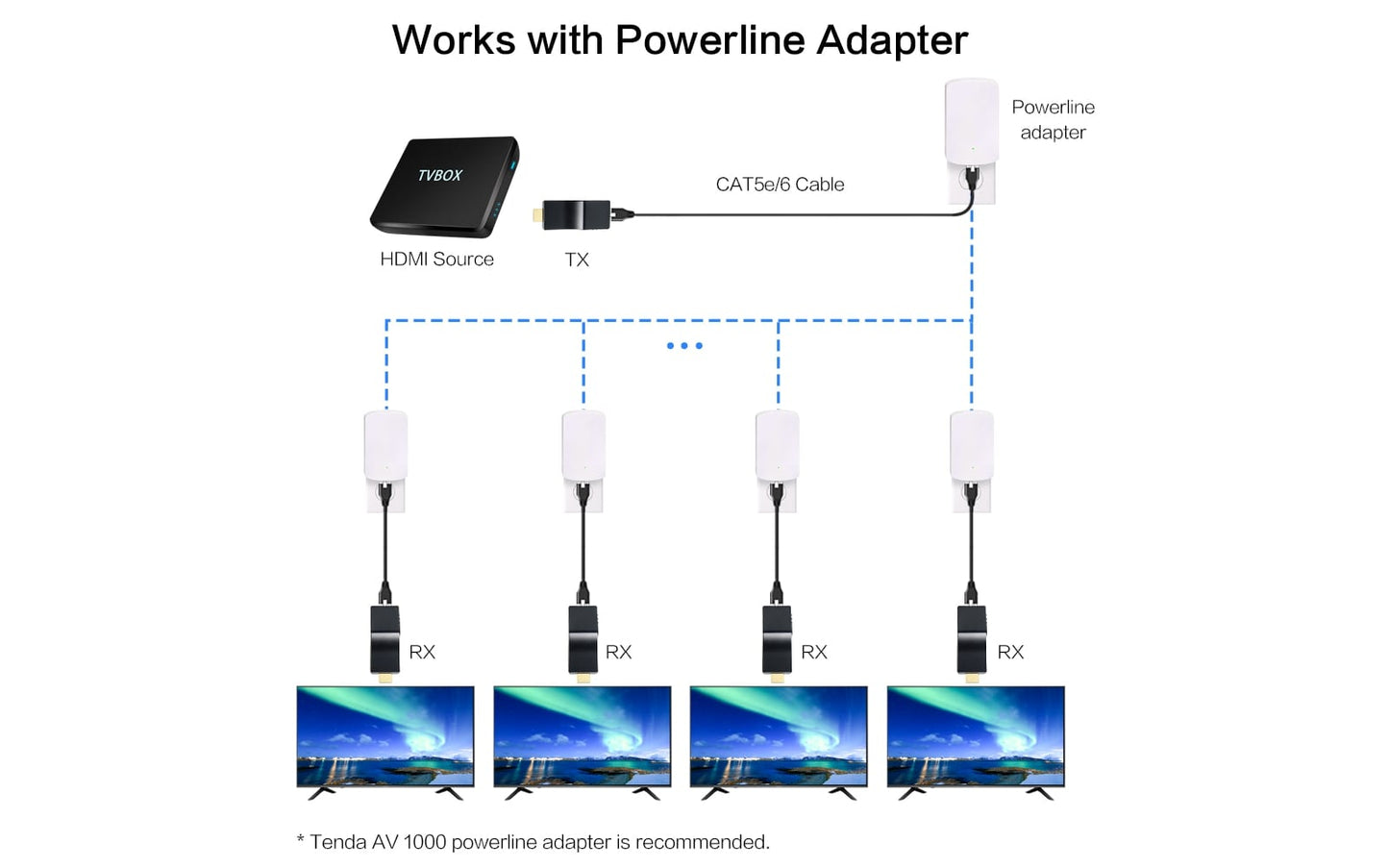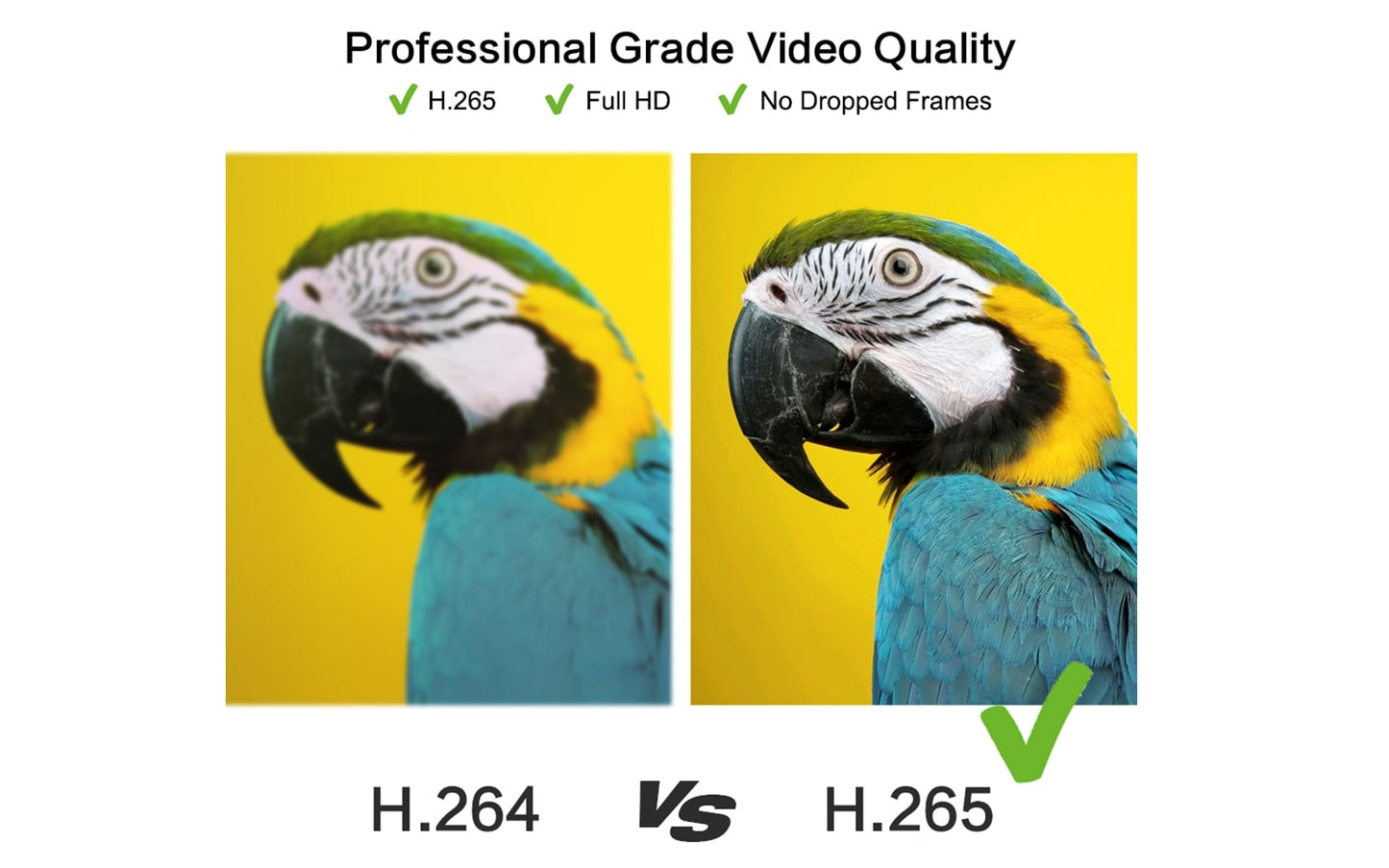 Overview 
Portable HDMI over IP Transmitter Receiver: Ultra-mini(75x32x22mm) and ultra-lightweight(35g). The HDMI ethernet extender is ideal for video transmission and broadcasting systems over LAN. 
Energy-Efficient & USB-Powerer: Ultra-low power consumption(2.0W). The HDMI extender accepts power from mobile power bank, or from the USB port of signal sources and display terminals respectively. Easy to install; plug and play. 
H.265 Encoding Technology:  Adopt H.265 HEVC codec technology to achieve IP video transmission with HDMI input and output up to 1080P@60Hz respectively with clear, smooth image quality in high-color reproduction. 
Transmission Latency as Less as 0.08s: HDMI signal long-distance transmission is achieved over twisted-pair cables in as less as 0.08s delay. Support 1-to-1 network cable direct connection with transmission range up to 492ft/150m. Support the TX transmitter and RX receivers to join the same LAN via a switch and perform video transmission over the LAN. As a HDMI over powerline extender, AV transmission can be performed over the exising power lines with a powerline adapter. 
1-to-Many Video Broadcasting: Multiple RX receivers can be purchased separately to perform 1-to-many video broadcastting over the LAN. 1 TX transmitter supports up to 253 RX receivers(1-to-253 broadcasting). 
HIP-10 is a portable 2K HDMI over IP transmitter and receiver kit in ultra-compact form factor. The HDMI over ethernet extender kit is USB-powered so it accepts power from the USB port of HDMI signal sources and the display terminals respectively. Plug and play. It performs reliable video transmission in 1080P@60Hz with HEVC H.265 in as less as 0.08s delay. In 1-to-1 video transmission application, the extender can be set up over a single cat6 or cat7 with range up to 492ft/150m. In 1-to-many(up to 253) broadcasting applications, the transmitter and receivers connect to a switch on the same LAN to perform video broadcasting. Beyond that, as a HDMI over poweline video extender kit, it can be set up on the existing power lines with the help of the powerline adapter. 
USB-powered & Easy Setup 
The HIP-10 HDMI extender is HDMI type-A male connecter so you can plug the TX transmitter and RX receiver into your signal source and display terminals directly, and power the TX and RX by USB connection easily. Plug and play, ideal for projection system, home theatres, digital signage and more.
Cost-Effective 1-to-Many Solution
The HIP-10 HDMI IP transmitter allows stream from a single TX Transmitter to up to 253 RX Receivers through a switch on the same line. No drilling holes and screws are needed while the TX and RXs are set up on your existing power lines with the help of powerline adapter. Save your total cost of video system setup. 

Crystal Clear HD Video Quality
This mini HDMI extender over IP applys advanced H.265/HEVC codec for image processing in up to 1080P@60Hz resolution. You can sit with ease and enjoy your crystal clear high-quality HD video anywhere there is HIP-10 video transmission system. 
Audio Embedding and Extraction
Transmitter (TX) - Audio embedding
Support external 3.5mm audio and HDMI audio input. You can switch between the native HDMI audio and the external 3.5mm audio source input (supports Line in/Mic in) by pressing the 'Reset' button on the TX.
Receiver (RX) - Audio Extraction
The Receiver can repeat audio embedded in HDMI source and also extract it to a separate 3.5mm audio output, which allows you to connect it to a 3.5mm audio device, such as stereo sound system or desktop speaker for additional audio output.
Set Up with Powline Adapter 
Are you still struggling with the cable wiring for your setup of your video broadcasting system? DDMALL HIP-10 free you from the additional infrastructure building. You can set up our HDMI over IP extender over your exist power line with the help of powerline adapter. Then, you are ease with everything! Compatible with various devices, such as set-top boxes, blu-ray players, Xbox, NVR systems, game consoles, laptops, TVs, projectors, HDMI monitors and more.
Specifications 
| | | | |
| --- | --- | --- | --- |
| Power Supply | DC 5V/1A(USB-Powered) | Power Consumption | 2.0W  |
| Operate Temperature | -10℃~50℃ (14℉~122℉) | Operate Humidity | 10%-90%RH (non-condensing) |
| Network Mode | Static/DHCP | Work Mode | 1-to-1, Cascade, 1-to-many |
| Max, Transmission Range  | 100m over Cat 6 cable | HDMI Input Resolution | 1080p@60/50/30Hz; 1080i@60/50Hz; 720p@60/50/30Hz |
| HDMI Output Resolution | 1080p@60Hz | HDMI Standard | HDMI 1.3, HDCP 1.2 |
| HDMI Connector | type-A male  | Audio  | Line in, Mic in, HDMI lpcm 2.0 |
| Transmission Protocol  | IGMP  | Dimension  | 75mm(L)x32mm(W)x22mm(H) |
| Weight  | 65g/pair | EDID  | Supported  |
What's in the Box
• 1× HDMI Transmitter, 1× HDMI Receiver
• 2× HDMI Male to Female Cable
• 2× HDMI Female to Female Adapter
• 2× Micro USB Power Cable
• 2× 3M Double Sided Tape
• 1× User Manual

Reminder:Please use an unmanaged, dedicated network switch for network setup with multiple receivers.