SKU:WHE-15
Regular price
$359.00 USD
Regular price
$359.00 USD
Sale price
$359.00 USD
Unit price
per
Sale
Sold out
Share
16 in stock
View full details
Overview
The DDMALL WHE-15 is a mini wireless HDMI 2K video extender kit. This video transmission system includes 1 wireless HDMI HD transmitter and 1 wireless HDMI HD receiver to transmit HD video and audio to 196ft/60m (line of sight) range at the most. The HDMI extender kit is USB type-C powered video extender devices, supporting plug and play. In direct connection Mode, the HDMI extender kit performs auto-pairing after installation for 1-to-1 video transmission; in router relay mode, multiple transmitters and receivers are connected to the same router for 1-to-1, 1-to-many and many-to-many (up to 6 pairs of TXs and RXs simultaneously) transmission. Ideal to stream your Blu-ray player, game consoles, media players, DVD, CCTV, satellite box, IPTV to your PC, large screen, projector and monitor for display.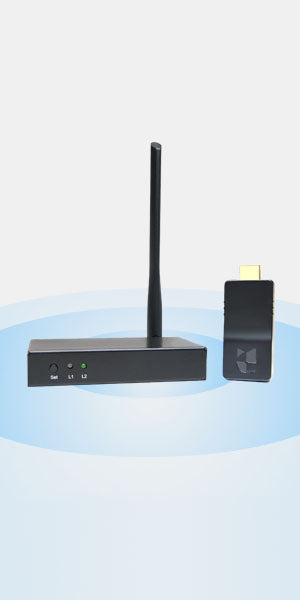 DDMALL Mini Wireless HDMI Transmitter and Receiver
Innovative Product with Leading Technology
The DDMALL WHE-15 wireless HDMI extender is designed for reliable wireless HDMI extension. It includes two word modes for different purposes.
1. Direct Connection
Simply plug and play, no setup is required. Extension up to 196ft (line of sight) in full HD 1080p.
2. Router relay Connection
You can connect the WHE-15 to your Wi-Fi for longer extension range. Ideal for large conference room, home A/V system, and where long distance (through walls) wireless audio & video extension is needed.
Key Features
• Small size and lightweight-super easy to install.
• Direct connection- up to 196ft at maximum of full HD 1080p.
• Router relay connection- extends via existing Wi-Fi network for longer extension range.
• Support both 2.4GHz and 5GHz for minimal interference.
• Powered by USB, no bulky power adapters.
• Ultra lower latency, less than 140ms
• 3.5mm audio jack on receiver for external 3.5mm sound bar connection.
• Ultra low power consumption. Supports 24/7 working.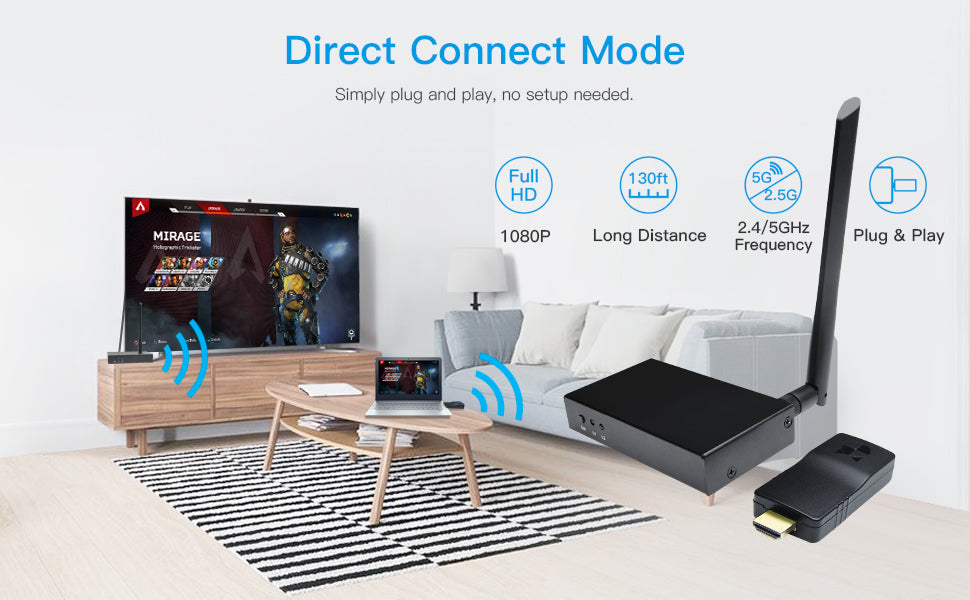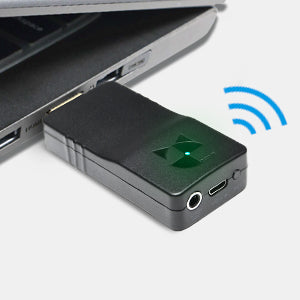 Easy Installation
Featuring small size that connects directly to your laptop, media box and various devices simply, eliminating the need for extra HDMI cables. The transmitter (TX) can be powered from most HDMI ports directly, no extra power supply needed. Smart LED lights indicate the status of connection. Easy and simple to use with no hassle installation.
RREMINDER
For some devices with low power HDMI port (e.g. Apple Mac, iPad), you may need to power the transmitter via its USB port.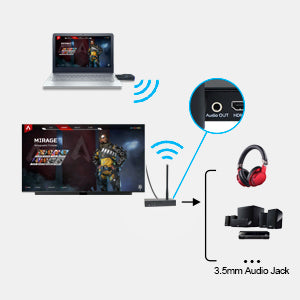 Enhanced Audio Experience
The WHE-15 supports HDMI LPCM audio and the receiver unit also supports an external 3.5mm audio output which allows you to connect to an external sound bar or other audio system that equipped with 3.5mm audio jack for enhanced audio experience. It's simply plug and play, no extra setup required.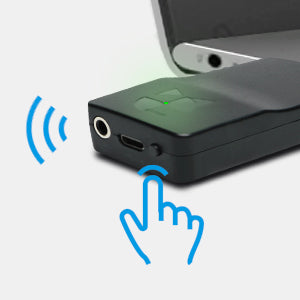 Multi-function Button
The button on the transmitter allows you to start/stop streaming by a simple press of the button, this can be very useful especially when doing presentation. You can stop and restart streaming your content in a second, without having to unplug/plug the extender.
The button on the receiver unit allows you to change its Wi-Fi channel for the optimal wireless connection when the 2.4GHz/5GHz is congested in your environment.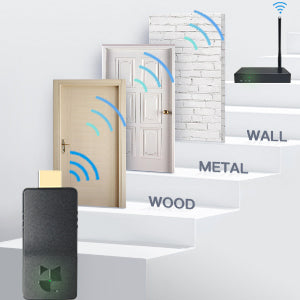 Through Walls, Ceilings, and Floors
In direct connection, the WHE-15 extends audio and video up to 130ft (line of sight) from the sender to the receiver. In router relay connection, the WHE-15 extend signals via your existing Wi-Fi network, so its extension range depends on your Wi-Fi coverage. The WHE-15 signal can through walls, floors, ceilings and doors while maintaining reliable wireless connection and crystal-clear audio/video quality, no drop out and glitch.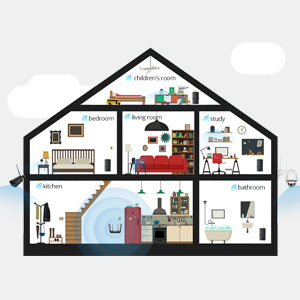 Multiple Pairs Working in the Same Environment
The WHE-15 supports multiple pairs working in the same environment with no interference. For direct connection, there is no quantity limited. For router relay connection, the WHE-15 supports up to 6 pairs working simultaneously.
How it works
You can customize the wireless token of each pair via the WHE-15 web-based user interface using a common browser on your mobile phone, laptop or tablet to allow for multiple pairs in the same environment. Each transmitter will search surrounding Wi-Fi channels, automatically selecting an unused frequency.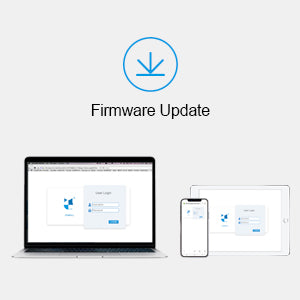 Firmware Update Capability
Support firmware online update to add new features with time evolvement. One purchase deserves life-time technical support online. Never worry about the support.

Specifications
• Extension Range: Direct Connection- 196ft (60m) at Full HD 1080p (Line of Sight) Repeater Connection- Extension range depends on Wi-Fi coverage.
• Supported Input Resolution: 1080p@60Hz/50Hz/30/24Hz, 1080i@60/50/30/24Hz, 720p@60/50/30/24Hz
• Supported Output Resolution: 1080p@60Hz
• Supported Audio: Transmitter- HDM LPCM Audio Receiver-HDMI LPCM Audio, 3.5mm Audio
•Latency: 720P : 90ms~120ms 1080P: 110ms~140ms
• Power Consumption: Transmitter (2.4W) Receiver (2.5W) Power Supply: USB-Powered
•Wireless Band: 2.4GHz & 5GHz
•Standard: HDCP 1.2, HDMI 1.4
•Web-based User Interface: Access the WHE-15 web-based user interface using an common browser on your laptop, mobile phone and tablet for repeater connection, multiple pairs setting and firmware update.
•Firmware Update Capability: Go visit the DDMALL Forum or sign up for your product to keep you up to date on the latest firmware, functionality and usability of your WHE-15 wireless extender. (You may also contact DDMALL directly to find out about any updates that have been released or plan on being released.)

What's in the Package
• 1xTransmitter
• 1xReceiver
• 2xUSB Power Cable
• 1xType-C to HDMI Male Adapter (4K-enabled)
• 1xHDMI Male to Female Cable
• 1xUser Manual
• 1xCustomer Service Card