SKU:WHE-10-RX
Regular price
$189.00 USD
Regular price
$189.00 USD
Sale price
$189.00 USD
Unit price
per
Sale
Sold out
Share
20 in stock
View full details
[short_description]
【Portable HDMI Wireless Receiver】Ultra-mini size(75x32x15mm), ultra-lightwegiht(25g), and ultra-low power consumption(2.6W). The Wireless HDMI receiver is USB-powered and it accepts power from the USB port of display terminals without additional power adapter, making it easy and tidy for setup; plug and play.
【Direct Connection & Router Relay Mode】With WHE-10TX wireless transmitter, the video transmission range of the HDMI wifi extender is up to 130ft/40m in direct connection mode; in router relay mode, it connects to the router for longer tranmission distance, while the signal can easily pass through the wall. Where there is Wi-Fi coverage, where can the wireless video in HD deliver to. 
【Multiple Pairs of Extenders Used Simultaneously】 In the same environment, multiple pairs of HDMI wireless extenders can be used simultaneously. Each pair can set up wireless video transmission independently without interfering with each other. 
【Many-to-Many Video Transmission Supported】With WHE-10TX wireless transmitter, the wireless HDMI receiver can perform multiple transmission scenarios like many-to-many, many-to-1, 1-to-many. Professional iOS APP is in place to provide users with convenient control experience. 
【Device Online Update Supported】The wireless HDMI transmitter and receiver kit supports online update to continuously add new functionalities so that it can meet diverse application requirements of customers. 
[/short_description] [product_description]
DDMALL Technology
DDMALL Technology is the proprietary brand of Atel Technologies Co., Ltd. As a company comprised of R&D and manufacture, we have been dedicated to hardware video codec products for over 20years. Foot on video over IP industry, we have developed a series of hardware HDMI over Ethernet transmitters, extenders, live video encoders, decoders, A/V processors, matrix switchers, HDMI cables etc. To meet the ever-growing segmented market demands and keep our customers one-step ahead in the market, we will stay innovative and sharpen our technology to provide more versatile, reliable, stable but less cost and carbon footage solutions for video transmission, distribution and live streaming.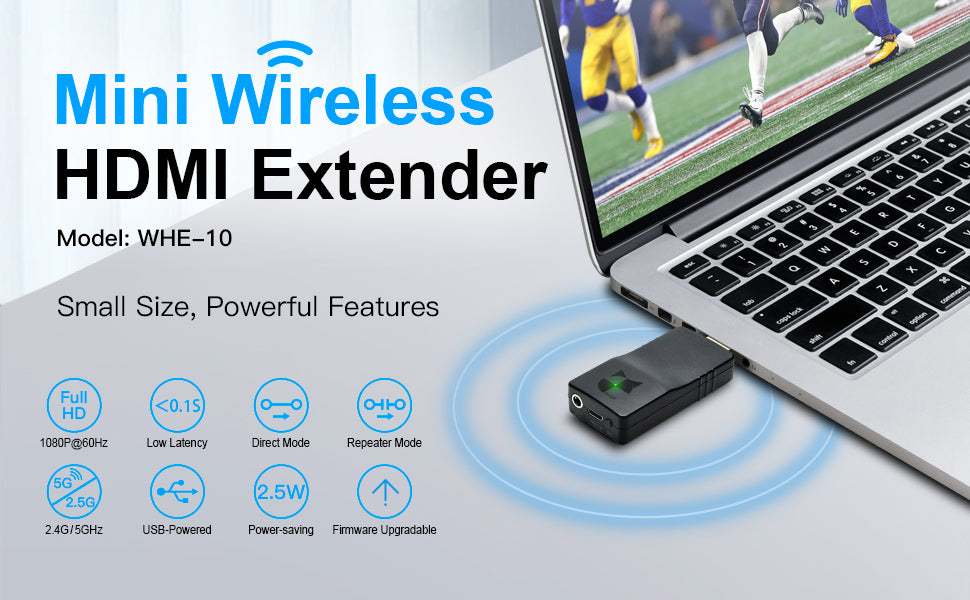 DDMALL Mini Wireless HDMI Transmitter and Receiver
Small Size, Powerful Features
Key Features
• Mini Size & Lightweight---portable & easy installlation .
• All in one design, no messy cable, making your room and office tidy.
• Support 1-to-1, 1-to-many, many-to-1 and many-to-many applications.
• Built-in dual antennas--support both 2.4GHz & 5GHz bands with smooth and reliable transmission.
• USB-powered, no bulky AC power adapter.
• Lower Latency <0.1s, ideal for streaming.
• 3.5mm audio output to external sound bar for enhanced audio experience.
• Pro-grade quality, support 24/7 working.
• Firmware upgradable, more upcoming features available.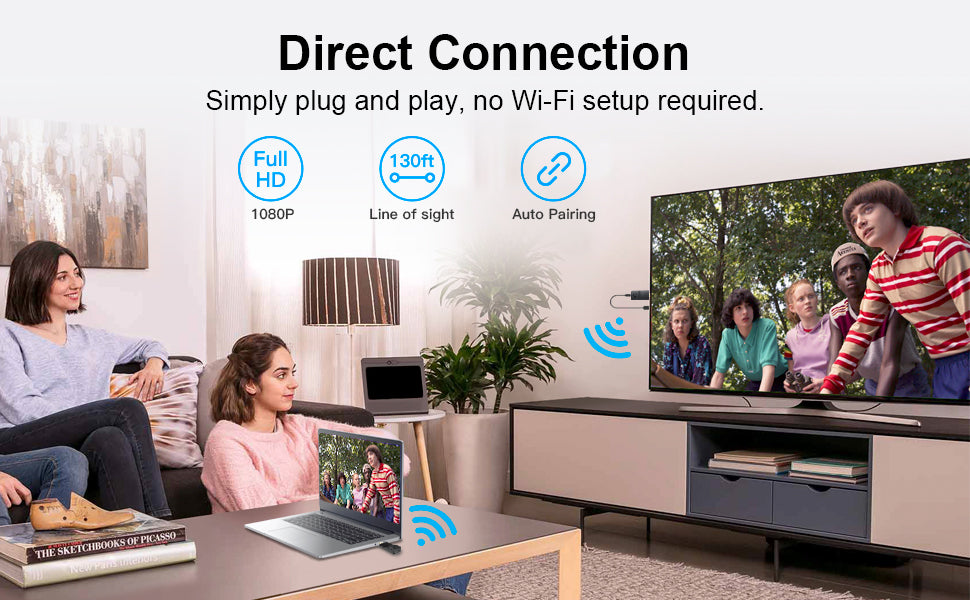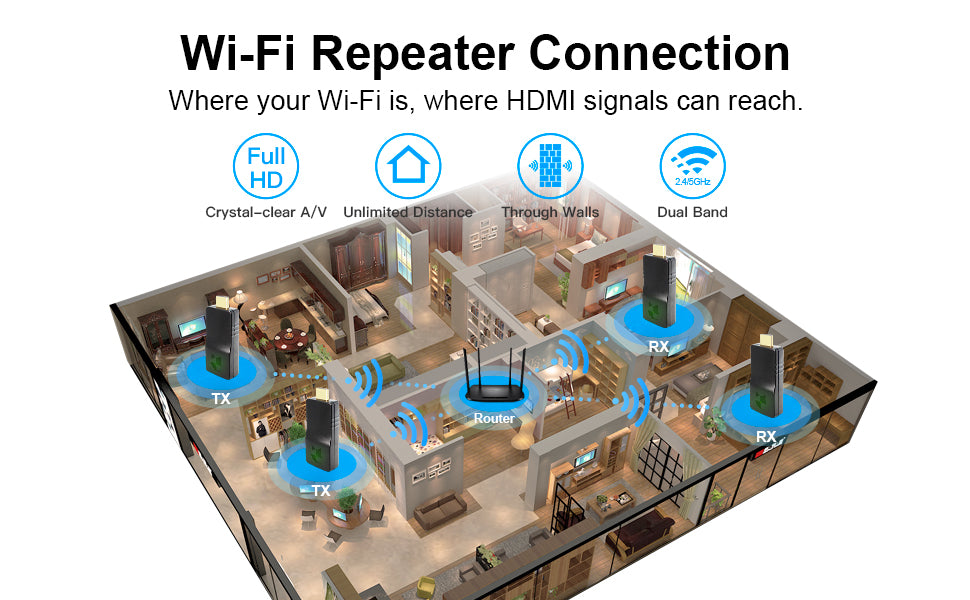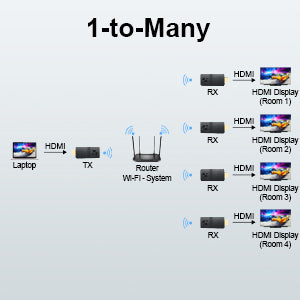 1-to-Many
You can connect one transmitter to up to four receivers to extend one single HDMI source to up to four displays. You can use it to extend HDMI signal from your cable box/laptop/blu-ray player from your basement floor to multiple TVs located in different room.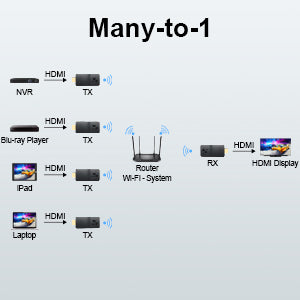 Many-to-1
One Receiver can pair with up to 4 transmitters simultaneously, you can switch between different sources simply by pressing the multi-function button. Perfect for extending or mirroring your laptop or tablet to share ideas with your colleagues on a boardroom projector or tradeshow display.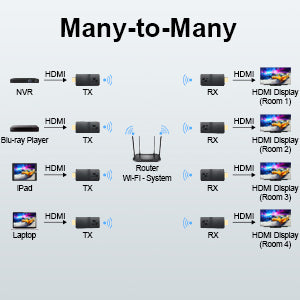 Many-to-Many
You can use multiple transmitter and receiver pairs in the same environment with no interference.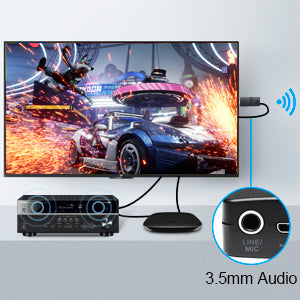 Multi-function Button
TX Button: Allows you to start or stop streaming in a second by short pressing, useful for presentation. You can also switch between different sources simply by press the button. RX Button: Allows you to change its Wi-Fi channel for the optimal wireless connection when the 2.4G/5GHz is crowded in your network environment.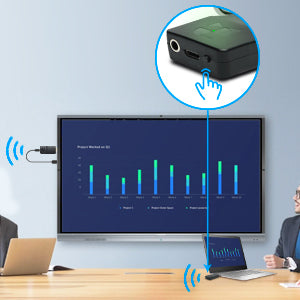 USB-C Compatible
The DDMALL mini wireless HDMI extender is compatible with USB-C equipped laptop and tablet. The package comes with a USB-C to HDMI female adapter for you to connect the extender to your USB-C equipped laptop or tablet so you can easily extend your movie, multi-media content, or picture from USB-C source device to a TV screen or projector for ultimate viewing experience.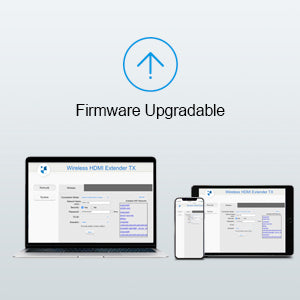 Enhanced Audio Experience
You can connect an external sound bar to the 3.5mm audio output port on the receiver unit for enhanced audio experience.
Specifications
• Extension Range: Line-of-Sight Connection- 130ft (40m) at Full HD 1080p, Wi-Fi Repeater Connection- Extension range depends on your Wi-Fi coverage.
• Supported Input Resolution: 1080p@60Hz/50Hz/30/24Hz, 1080i@60/50/30/24Hz, 720p@60/50/30/24Hz
• Supported Output Resolution:1080p@60Hz
• Supported Audio: Receiver-HDMI LPCM Audio, 3.5mm Audio
• Latency: 90ms~120ms 1080P: 110ms~140ms
• Power Consumption: Receiver (2.5W)Power Supply: USB-Powered
• Wireless Band: 2.4GHz & 5GHz
• Standard: HDCP 1.2, HDMI 1.4
• Web-UI: Access the WHE-10-RX Web-UI by using a common browser on your laptop, mobile phone or tablet for repeater connection, multiple pairs setting and firmware update.

What's in the Package
WHE-10-RX Wireless HDMI receive comes with everything you need inside the box to get started quickly. Don't be worry about shopping for the right cable
• 1xReceiver
• 1xUSB Power Cable
• 1xType-C to HDMI Male Adapter (4K-enabled)
• 1xHDMI Male to Female Cable
• 1xUser Manual
• 1xCustomer Support Card