SKU:WHE-10-TX
Regular price
$189.00 USD
Regular price
$189.00 USD
Sale price
$189.00 USD
Unit price
per
Sale
Sold out
Share
Low stock: 10 left
View full details
Overview
The DDMALL WHE-10-TX is a Mini 2K HD wireless HDMI transmitter in the market. It can be powered by USB type-C. Simply plug and play, and no setup is required. This wireless video transmitter can transmit and distribute 2K HD video and audio up to 130ft/40m (line of sight) when pairing with WHE-10RX. You can connect the WHE-10-TX to your Wi-Fi network for longer A/V transmission range. It is perfect to transmit your video and audio from Roku, TV stick, set top box, Blu-ray player, computer, tablet etc. to your HD TV, projector,, large screen etc. It is an ideal video transmission solution for large conference room, home A/V system etc.

Key Features
• Mini Size & Lightweight---portable & easy installation .
• All in one design, no messy cable, making your room and office tidy.
• Supports 1-to-1, 1-to-many, many-to-1 and many-to-many applications.
• Built-in Dual antennas, supports both 2.4GHz & 5GHz bands, smooth and reliable transmission.
• USB-powered, no bulky AC power adapter.
• Lower Latency <0.1s, ideal for streaming.
• 3.5mm audio output to external sound bar for enhanced audio experience.
• Pro-grade quality, supports 24/7 working.
• Firmware upgradable, more upcoming features available.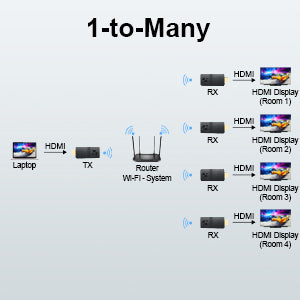 1-to-Many
You can connect one transmitter to up to four receivers to extend one single HDMI source to up to four displays. You can use it to extend HDMI signal from your cable box/laptop/Blu-ray player from your basement floor to multiple TVs located in different rooms.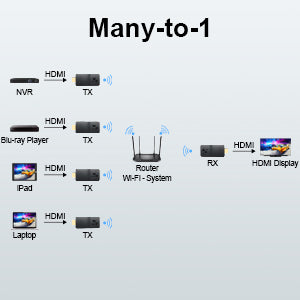 Many-to-1
One Receiver can be pair with up to 4 transmitters simultaneously, you can switch between different sources simply by pressing the multi-function button. Perfect for extending or mirroring your laptop or tablet to share ideas with your colleagues on a boardroom projector or tradeshow display.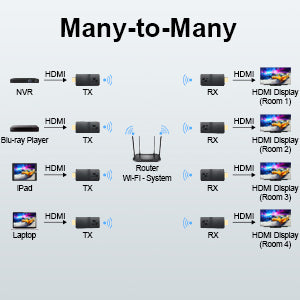 Many-to-Many
You can use multiple transmitter and receiver pairs in the same environment with no interference.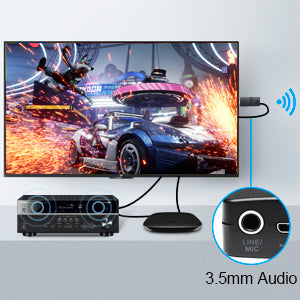 Multi-function Button
TX Button: Allows you to start or stop streaming in a second by short pressing, useful for presentation. You can also switch between different sources simply by press the button. RX Button: Allows you to change its Wi-Fi channel for the optimal wireless connection when the 2.4G/5GHz is crowded in your network environment.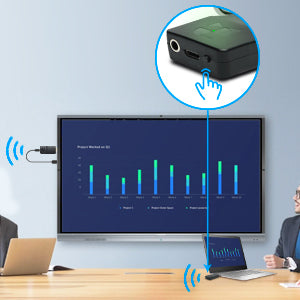 USB-C Compatible
The DDMALL mini wireless HDMI extender is compatible with USB-C equipped laptop and tablet. The package comes with a USB-C to HDMI female adapter for you to connect the extender to your USB-C equipped laptop or tablet so you can easily extend your movie, multi-media content, or picture from USB-C source device to a TV screen or projector for ultimate viewing experience.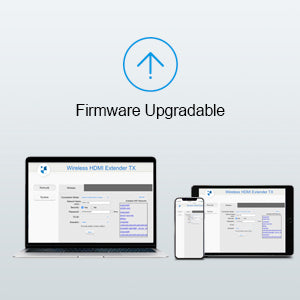 Enhanced Audio Experience
You can connect an external sound bar to the 3.5mm audio output port on the receiver unit for enhanced audio experience.
Specifications
• Extension Range: Line-of-Sight Connection- 130ft (40m) at Full HD 1080p, Wi-Fi Repeater Connection- Extension range depends on your Wi-Fi coverage.
• Supported Input Resolution: 1080p@60Hz/50Hz/30/24Hz, 1080i@60/50/30/24Hz, 720p@60/50/30/24Hz
• Supported Output Resolution:1080p@60Hz
• Supported Audio: Transmitter- HDM LPCM Audio, 3.5mm Audio
• Latency: 90ms~120ms 1080P: 110ms~140ms
• Power Consumption: Transmitter (2.4W) Power Supply: USB-Powered
• Wireless Band: 2.4GHz & 5GHz
• Standard: HDCP 1.2, HDMI 1.4
• Web-UI: Access the WHE-10-Tx Web-UI by using a common browser on your laptop, mobile phone or tablet for repeater connection, multiple pairs setting and firmware update.
What's in the Package
WHE-10-TX Wireless HDMI Transmitter comes with everything you need inside the box to get started quickly. Don't be worry about shopping for the right cable
• 1xTransmitter
• 1xUSB Power Cable
• 1xType-C to HDMI Male Adapter (4K-enabled)
• 1xHDMI Male to Female Cable
• 1xUser Manual
• 1xCustomer Support Card